I was reading on a forum and the lovely Alexis highlighted this other blog Rear Window which holds a weekly blog carnival and I thought it was too funny so I decided to join in. Without further adieu…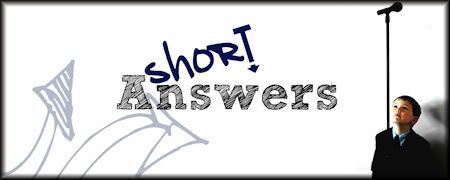 …opps, a little adieu
.
So, the deal is, if you have some littles in your family ask them these 5 questions and post the answers, the questions are random and change weekly so here goes.
WHAT'S YOUR FAVORITE THING ABOUT WHERE YOU LIVE?
Joshua- Ahh, the country (giggles)
Anything else?
Umm, I also like to milk a cow.
Taliah-I like the yard and the house. The barn and the willow tree, behind the stick pile, and the tree we built the fort in, oh, and the little woods.
Joel- Like up in the attic. Wanta sleep there.
Elijah- That we finally got some woods and that we have 2 cats and we are going to get a dog and that we built a small fort with Daddy and that we have a barn.
WHAT DO TRAINS CARRY?
Joshua- I don't know…luggage
Joel-hay
Taliah- Of course they carry carts and, umm, and they use to carry cabooses at the back.
Elijah- Ahh, cargo, people

WHAT DOES A SHERIFF DO?
Joshua- Makes sure the town is good.
Taliah- A sheriff does kind of like what a police officer would do, try and keep peace.
Joel- ride horses
anything else?
fixing men
Elijah- He protects the people, and arrests bad guys, and makes peace.
WHERE DOES THE GAS STATION GET THE GAS?
Joshua-I do not know Mom.
Any guesses?
From the ground. (giggle)
Taliah- Ahh that's a hard question I'm thinking from the city or the government or an oil or gas company.
Joel-cars
Elijah- From the gas making company.
IF YOU COULD DO WHATEVER YOU WANT FOR A WHOLE DAY, WHAT WOULD YOU DO?
Joshua-I would buy a lot of Bologna.
That is what you would do all day?
Play with Lego and K'nex.
Taliah- I would buy lots of horses and a ranch, if I had the money and I would groom them and ride them. Oh, and have cake for a celebration.
Joel-Go in space!
What would you do in space?
Go around and around the stars.
Elijah- I have a couple things, bring the world back to medieval times, shoot some deer that a farmer doesn't want on his property.
(I love that my kids assumed that they would also have endless finances and abilities.)
Pin It