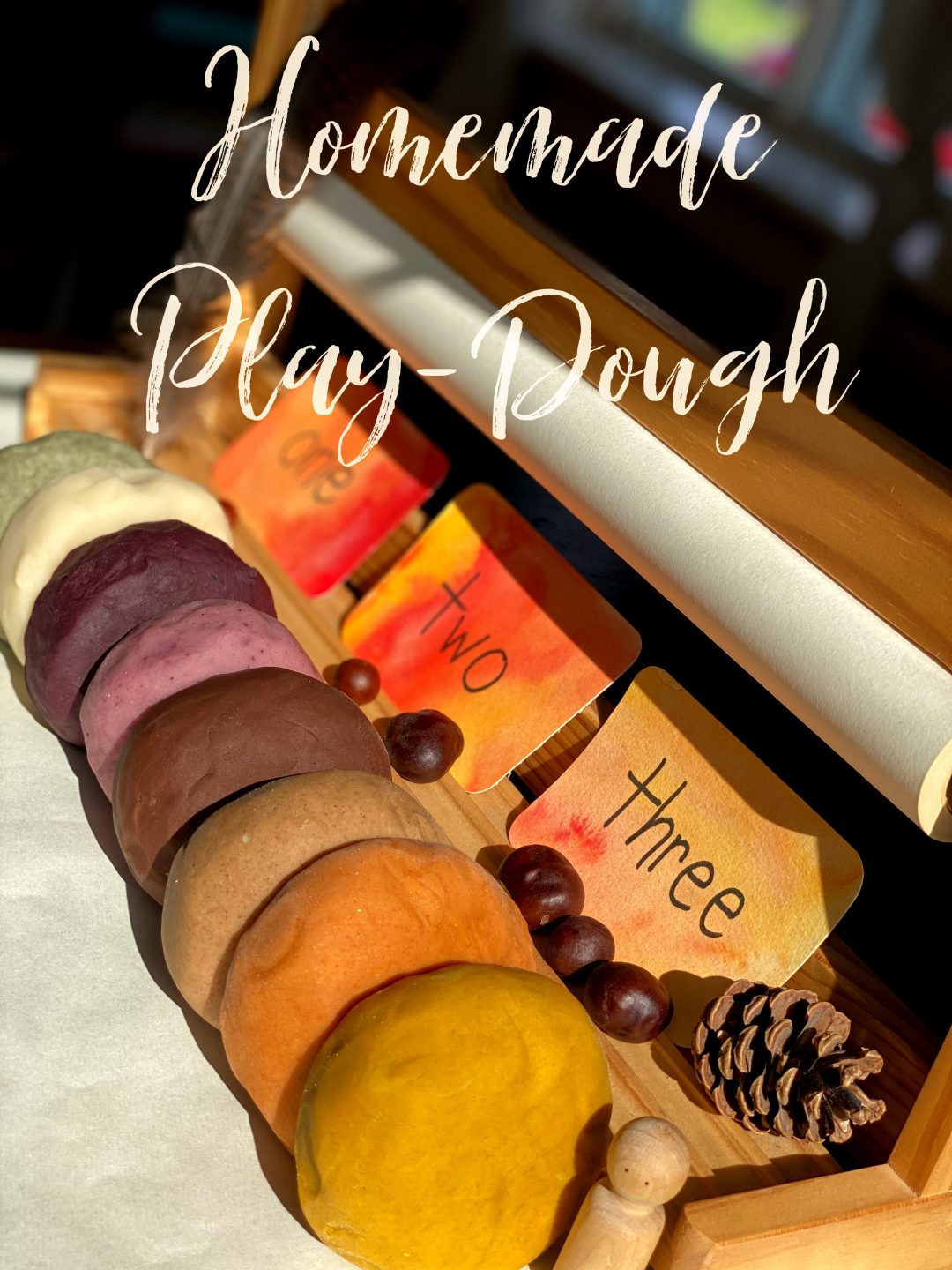 It has been awhile since we have made play-dough so it seemed the right timing to make some. I thought I would share it here with you all. It is super easy and only takes about 10 minutes of your time for a batch, and maybe 5 or so minutes for any other batches once you have gathered everything you need.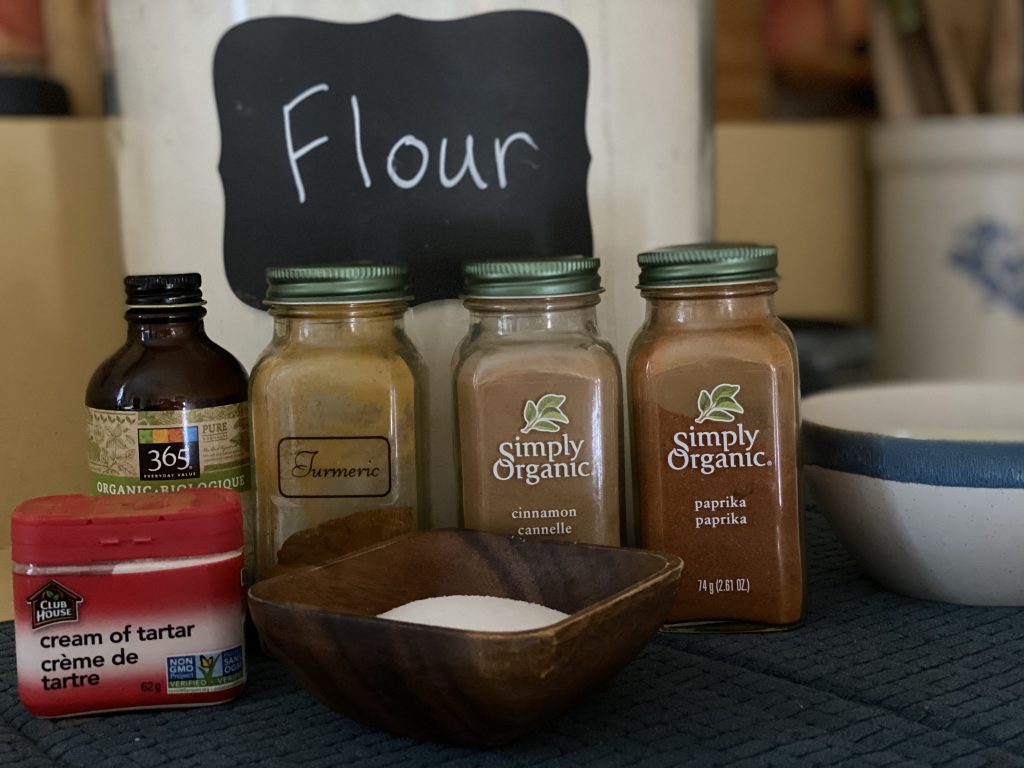 So here is the Recipe for Homemade Play-Dough (dye free).
1/2 cup flour, 1/2 cup of water, 2 TBSP salt, 1 tsp cream of tartar, & spice of your choice.
Spice options;
1 tsp vanilla – off white
1 TBSP cinnamon – light brown
2 TBSP Cocoa – dark brown
2 tsp paprika – orange
1 1/2 turmeric – yellow
1/2 tsp – 2TBSP ground dried elderberry – purple*
Combine all of the ingredients in a saucepan, cook over medium low heat, stirring continuously until a ball is formed. Then knead to be sure all is combined smoothly.
Cinnamon Play-Dough… Tada!
(Please ignore my dirty stove top…)
I had fun experimenting with colour I used about 2 TBSP of ground dill to make the green, it did not turn out as bright as I had hoped. I wonder if you had spirulina how that might work. I thought ground rose petals might give a nice pink. If you had other dried berries you might get some interesting colours. I believe the last time I made play-dough I had smoked paprika it gave me a brighter orange. You can play with the amount you add to get various shades. The two purples are both from the ground elderberries the lighter being just 1/2 tsp and the dark 1 or 2 TBSP's.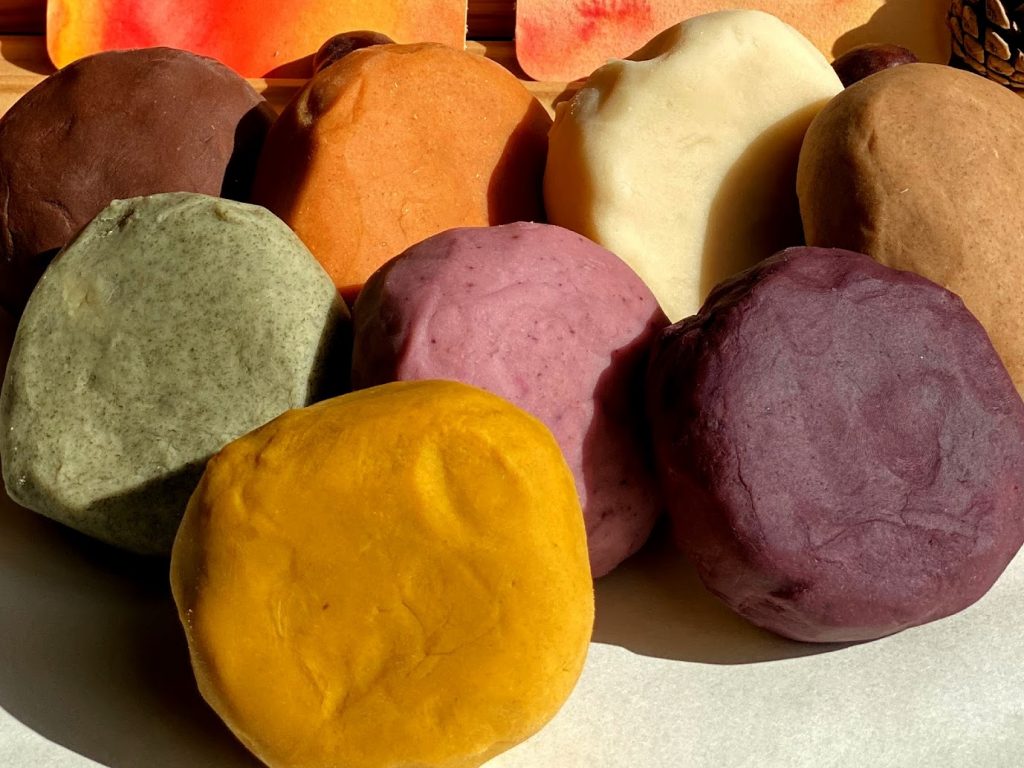 This stuff smells so nice too. It gives you a really nice soft play-dough.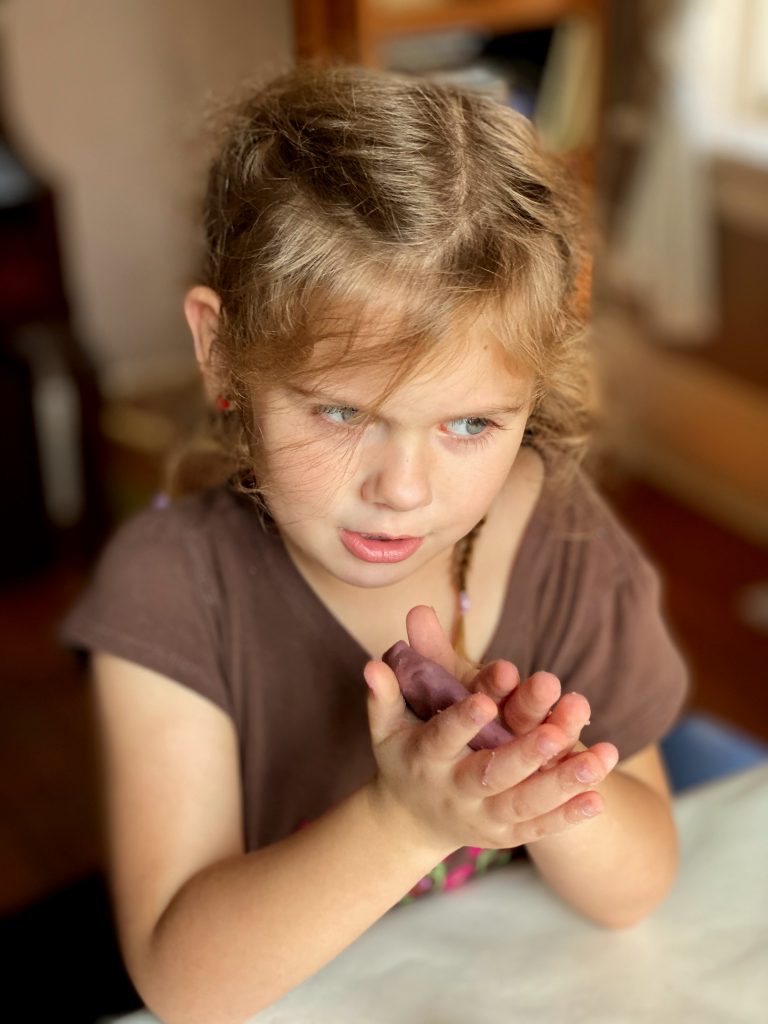 We have had a lot of fun playing with it. One thing Moriah and I have been doing lately is making letters out of play-dough. It has been helpful for her with seeing the difference between a b and a d. Of course, it is also fun just to create with it. She has made a soccer ball, teapots and cups, snakes and snails, the fun is endless. As a Momma I have no worries about toxins or ingredients that I have to go googling to find out what it is. I can't remember how long it lasts so I will update when I decide it is time to turf it. I know it lasts a few weeks for sure but I think we have had them last longer than that. Lastly, if it seems to be drying out a bit, I just really lightly wet one hand and work in the moisture. Have fun! If you make some let me know how it goes. If you think of another colour idea I would love to see it. Feel free to comment or tag me on instagram @cherylontheoldpath
Pin It