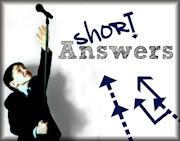 To join in the fun click on the above image!!

WHERE DOES POPCORN COME FROM?

Joel – Seeds.
Joshua – From their seeds!
Taliah – Firstly it comes from corn, after you dry out the kernel you can pop it.
Elijah – The corn kernel.

IF YOU HAD TO DECIDE BETWEEN EATING BROWNIES ALL DAY OR GOING TO THE PARK ALL DAY, WHAT WOULD YOU CHOOSE?

Joel – Go park.
Joshua – Go to the park all day.
Taliah – Park.
Elijah – Park.

WHAT'S YOUR FAVORITE MOVIE AND WHY?

Joel – The Fox and the Hound.
Why?
Because its good.
Joshua – Little Foot
Why?
It has dinosaurs.
Taliah – Christy, because so many exciting things happen.
Elijah – Dinotopia, it is a good story with dinosaurs.

WHAT EXACTLY IS IT THAT AN AUTHOR DOES?

Joel – Authors bite…about wolf…wolves bite too.
Joshua -Hmmm…cleans up things?
Taliah – It is the person who writes the story.
Elijah – Ahhh…It is really hard to say when you don't know what it is.

IF YOU COULD LOOK JUST LIKE ANYBODY, WHO WOULD IT BE?

Joel – Umm…a horse…horse can charge at to…knights ride horse…I'd be a knight horse.
Joshua – A fawn like Mr. Tumnus.
(
So just recently Joshua came to me and said look I am a mini Mr. Tumnus he is pretending to hold an umbrella and some packages. I am all for modesty but I thought it went so well with his answer.)
Taliah – Umm…Myself. (Why not when you can be a princess.)

Elijah – A Minotaur because they are strong & their horns look useful. (Should I be worried?)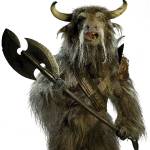 Pin It