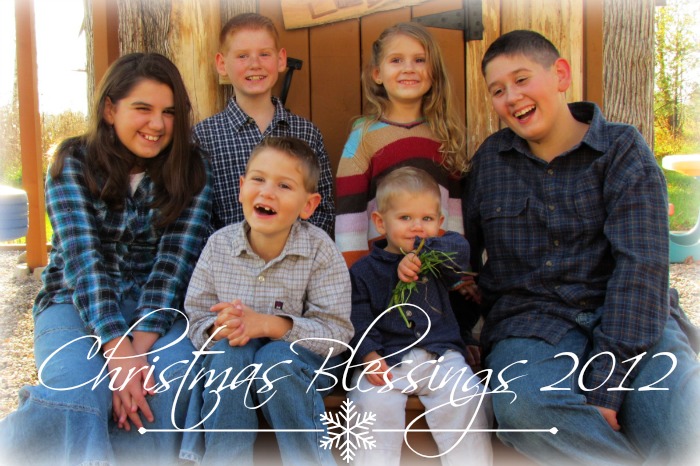 I thought I would share our Christmas letter here….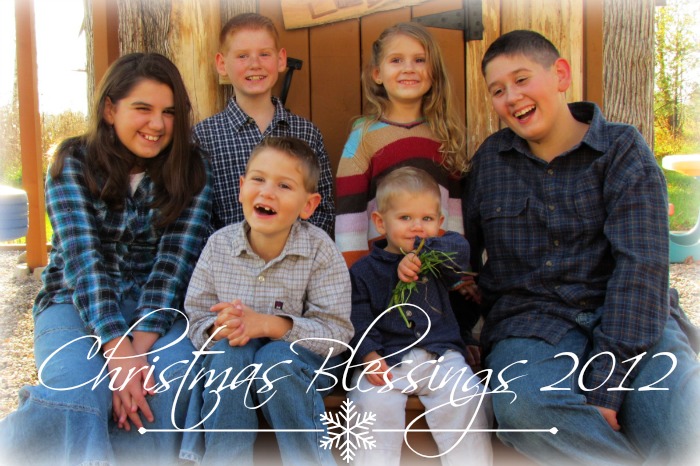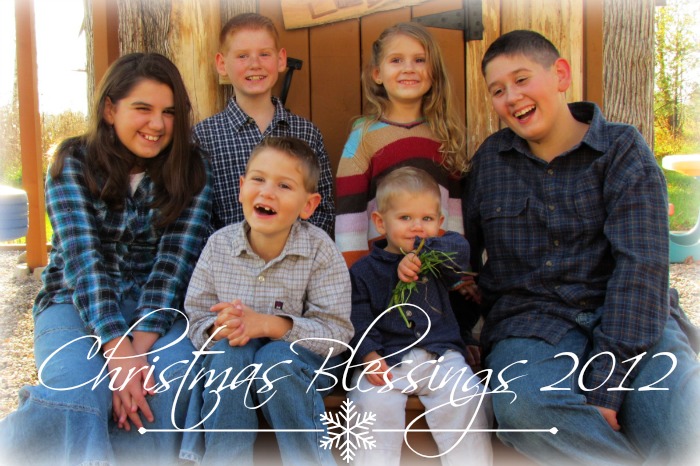 I can hardly believe we sit here at the close of yet another year. I know I am always late with our Christmas letter but this year I delayed it on purpose. Yesterday we received our first Christmas present. We got the results of Joel's latest MRI, all clear.
It has been another busy year full of ups and some downs. This year saw Elijah turn 14, Taliah 12, Joshua 9, Joel 7, Hannah 5, and Samuel 1. (I am sure Elijah and Samuel would wish me to point out that it won't be long and they will be 15 and 2, as they are both February babies.) We have enjoyed watching each one grow and change.
We finally put our first major garden in and even though it was an exceptionally dry summer our garden flourished. We watched a documentary on a gardening method and believe we owe our success to this method. If you wish to watch it just google 'Back to Eden Movie' and you can watch it for free.
We have continued in our chicken venture and hatched some of our own this year which was exciting for all of us to see the little chicks. We used an incubator and a broody hen, and I have to say, if you have a hen willing to sit, that is the way to go. She had a 100% hatch rate. We didn't come close to that with the incubator; obviously God knows what He is doing.
Dave also manned up and butchered our first 4 chickens ever (too many roosters) and we are thinking about doing meat birds next year. I'll spare you all the details but if you ask Dave or any of the kids I am sure they would be more than willing to give you a colourful report!
One of the highlights of my year was watching my Dad and Joel hold hands and walk the Victory Lap at the Relay for Life, Cancer Society Walk.
Elijah joined Air Cadets this year and loves it. He was in 2 Remembrance Day parades, been to the shooting range, and sat in a glider and an airplane. They were supposed to go up in the glider but the weather did not co-operate, they have another date scheduled for the spring. Elijah has caught the fish bug from his cousin Thomas and is enjoying having a fish tank and learning about all sorts of fish.
Taliah is always crafting something, she is learning to bead and crochet, and is still amazing us with her drawing. She joined a girls club this year called Gems and is really enjoying the new friendships she has made there.
Joshua (like most all of our kids) is a Lego enthusiast and is often found quietly building. He also joined a club this year, run through our church called Knight school. He is working hard to move from the Apprentice Level to the Page Level. I am so proud of how hard he is working at it.
Hannah is a bundle of energy, who would prefer to live in pajamas all day, every day. She is full of joy, and humor. Like her older siblings she is very imaginative and keeps us amused with the passion with which she lives her life. She is busy here at home and at 5 I have not felt the need to put her in clubs etc.
Samuel has spent his year growing and learning. He is a joyful little fellow (most of the time), but he is probably the loudest of the bunch and that is saying something for our gang.
Elijah, Taliah, Joshua and Joel all enjoyed taking archery lessons. They are all looking forward to the New Year when they begin again.
I purposefully left Joel to last. It is hard sometimes to know where to start with Joel. I experience such a crazy range of emotion when it comes to him. Cancer is the gift that keeps on taking, but it is at war with one brave little warrior. Joel successfully won his battle in 2011 but his fight did not end there. Cancer left him with many other battles to fight. This year Joel had surgery to straighten his eyes, which was successful, he still has one eye weaker than the other and this is an area he continues to work on. Joel has had countless appointments for Physiotherapy, Occupational therapy, and Speech therapy. Joel lost motor control down his right side of his body after his brain surgery and also experienced ataxia. Joel has fought hard in this area, he could not even sit up on his own, he is now running, not with the co-ordination and speed of his peers, but he is running! He is also starting to get both feet of the ground when he jumps. He is definitely left-handed now and is gaining strength and ability in both hands, bit by bit. Joel participated in therapeutic riding lessons again this year and all of the other kids got to go to a lesson and go for a ride too. (Samuel just watched.)
I often hear from people that they would never have guessed when they look at Joel that he had been through all that he has. Even the telltale 3 1/2 inch scar at the back of his head is barely noticeable to most people. Joel is a happy, 7 year old boy, who likes to play with other kids, loves Lego and wants a grappling hook to do his spy work; he plans on being a police officer just like Officer Bamber. Where it becomes more obvious that Joel has been through something is when you talk to him, Joel went mute after his brain surgery, again he has worked so hard in this area, yet it remains one of the biggest areas of battle for him, but he works hard at it and we are beyond proud of his efforts. Another discouraging area is in the area of learning, cognitive, processing speed, memory etc. Joel's latest round of neuro-psych testing has resulting in a new label, 'developmentally disabled.' Not an easy term to hear, however, as Joel's case is so rare they cannot predict his future in any way, they have no idea if the damage is permanent or temporary, Joel has amazed us in so many ways that we continue to press forward as he battles so many things. Joel has also stopped growing again and his doctor believes it is one of 2 issues and she is actively investigating this.
Joel is an amazing, brave boy, but he is not alone he has 5 incredible siblings who often bring tears to my eyes as they patiently listen to him get out his story. They help him pour a drink, tie a shoe. Almost every Sunday my little ball of energy girl restrains her desire to run in the door of our church and instead walks slowly so that Joel can run ahead and be first. They have fought hard along his side being his constant cheer team. They have sacrificed much and they all amaze me. Dave and I could not be prouder of them all. We are blessed beyond measure.
We look forward to 2013, I have a feeling it is going to be a year full of learning, growing, and continued healing. We wish you all the Merriest Christmas and a New Year full of God's richest Blessings!
Pin It