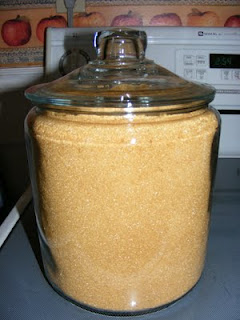 For along time I have thought it would be a good idea to make our own brown sugar.  I found a recipe (if you can call it that) that for light golden brown sugar,  you mix 6 cups of white sugar with 1/2 cup of molasses.
 I poured them into our mixer and turned it on.  It was immediately apparent that a little molasses goes along way.  I had to add a lot of sugar to get it to the desired consistency for my family.
 This is so super easy we won't be buying brown sugar again.  You can use regular sugar and molasses or organic which ever you prefer.  My advice is that you would put your sugar in your mixing bowl and then slowly add molasses until you arrive at the darkness you enjoy.
 Store in airtight jar or container,  and enjoy.
 We had more than what would fit in my jar so I put some in a zipper bag.
 Of course,  with all that brown sugar we had to bake something!!
Pin It