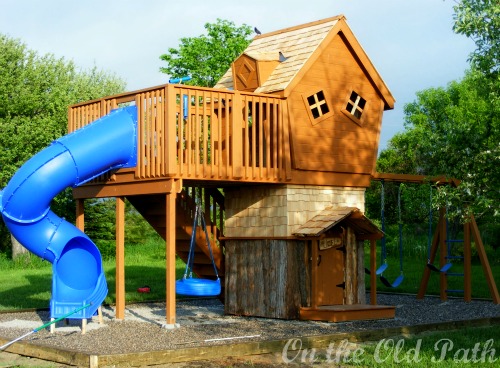 You might possibly be looking at the happiest boy in the world.
"Why?" you ask….
…because, today, was WISH DAY!!
We woke up early this morning to a flurry of activity.  Dave was trying to get the riding lawn mower up and running.  The big kids all had showers the night before but Joel and Hannah each took bathes this morning to be squeaky clean for WISH DAY!!  I later learned it was a futile step and would have to be repeated before bedtime.
The kids were watching the road with great expectations and finally a little after 9:30 in the morning the trucks pulled up.
Are you ready to be amazed?????
We were!!
 They tried to bring the first part of the house across the front yard, but we have had a tonne of rain and our land is like a big sponge.
 Josh is standing in the first tire rut the boom truck made.
 So they tried coming up the OLD PATH and it was successful until they turned of the OLD PATH.
 Once again you can see the tires sinking in.
 Here is Joshua standing in the second set of ruts.
 Joel was outside for a good part of the day watching all the activity.  Joel had his last planned hospital stay for Chemo on Wednesday, Thursday and came home Friday.  We were amazed at his energy today.
 When they brought the top half of the house across they tried the front again and once again it sank in.  Amazingly, it never got stuck.
Last rut but the deepest!
 The team of volunteers worked hard putting Joel's wish together, it took hours but it was well worth the wait!
 Joel had asked for a blue steering wheel.
 The kids quickly tested out the swings.
 Hannah, Joel & Elijah.
 Breaking it in.
 Elijah & Taliah.
 The back view.
 Periscope!
 Trap door, Joel had specifically requested his fort have a trap door.
 Happy, happy, happy boy!
 Front view!
Today was Joel's wish day.  Joel was granted a wish by Make A Wish and he thought long and hard and had very specific ideas.  Make A Wish filled the bill and went above and beyond.
It is late and we are all exhausted after an incredibly full day, I'll try to fill in more details tomorrow but I knew you were all anxious to know what we were up to.
Pin It