We had never had cats until we moved to the country.  It seems they are a necessity.  We got two little kittens and sadly one passed away in a rather tragic accident and we quickly replaced him with another kitten.  They grew into wonderful barn cats that kept the mice and shrew population in check.  Sadly one wandered off several months ago and then the other followed suit a couple of months later.  It was time to get some more barn kitties.
We picked up these two cuties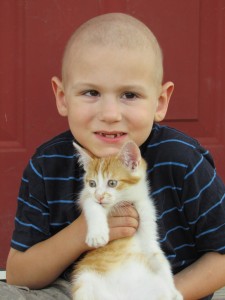 The kids named them King…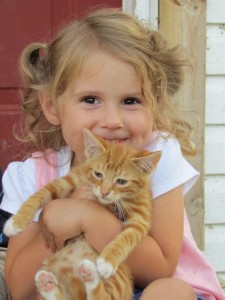 …and Caramel.
 Now,  part of the story that I neglected to tell,  was that in the middle of the winter,  a small grey kitten showed up in our barn.  The two gentlemen cats we raised were quite welcoming.  Now as my children believe,  when the little grey cat came of age it is believed that she married one of our barn cats.  Trumpkin, apparently remaining the bachelor, moved on.  Garfield and the grey kitten had a whirlwind romance and it appeared she was in the family way.  Suddenly,  she no longer appeared to be in the family way and we went in search of her kittens.   When none could be found we assumed that perhaps it had been too early and they did not survive.  Now around the same time our other cat Garfield disappeared.  After his absence grew past a month we decided to go ahead and get our new kitties King and Caramel.
As hard as it may be to believe we no sooner got these kitties home and discovered several other kittens running around.  It seems our little grey stray did have kittens.  We have our kittens in a large enclosure in our barn for them to get used to our home,  as their home,  to ensure they won't run off.  One day, a couple of weeks ago, the children had our two kittens out to play with and left the enclosure open.  Momma cat decided it was a nice place to get free food and brought her babies over.  When she heard the children coming back she scurried her little ones out,  but the little runt couldn't get out.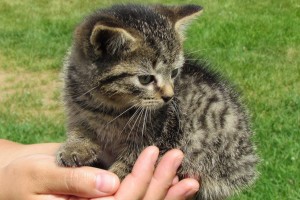 The children were so excited that we had caught this sweet little kitty.  His paws are all black and looked like tiny bear paws so they named him,  Little Bear.  We decided that we would let the kids keep him,  but,  that 3 cats was more than enough.  What were we going to do with the rest of the kittens?  We decided we'd leave the enclosure open and see what would happen. Within a short amount of time we caught the other 3 kittens.  Great, we can give them away.  Only these guys were not at all like Little Bear.   These 3 cute balls of fluff were furious.  It was evident we couldn't give them to anyone, so we let them go.  Then we thought, what is going to stop the Momma cat and these babies from bringing litter after litter to us.  We did not want to become a cat farm.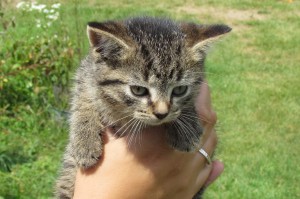 Over the course of a day we caught all of Little Bear's brothers, sisters and Momma.  We knew no one would take them as they were far too wild.   We had to use an animal trap to catch them and you couldn't handle them.  So now that we have then what would you do with them?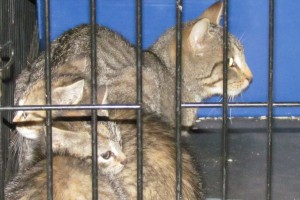 Here is my question for you,  what do you do with stray barn cats?   7 cats just seems like too many and I'd be worried about what if one of the kids cornered one?   I hate to dump them off somewhere, but honestly, we had no other ideas.  We have had friendlier raccoons on our property.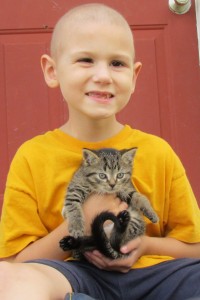 Joel and Little Bear
I'd love to hear how you handle Barn Cats.
Pin It