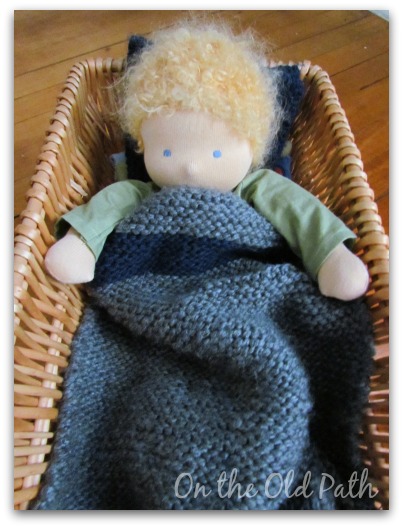 Welcome to Hand & Homemade Mondays, a weekly link up of all the creative things we have been up to.  Feel free to share anything Hand or Homemade.  It can be something you have sewn, knit, crocheted.  A painting, a piece of furniture you have re-finished, woodworking, you name it.  It can even be a new recipe you have tried.
Ah, the last week of February, we have had the worst case of cabin fever this year and are so anxious for spring to come.  We had a small reprise from the cold this past week where the temps climbed barely above freezing.  The sun shone and we threw open the windows to let some fresh sunny air in.  I think it has more benefit for my soul than it does to freshen the house.
It was short-lived, as this week looks rather cold.  I am sure winter will continue for at least a few more weeks in this part of the country.  We are looking ahead to spring though, we have planted seeds, and have more to go.  I still want to order a few more herb seed packets.  Dave has been busy organizing spiles and other supplies while planning out how to most efficiently cook down this year's sap.  We seem to be constantly checking  the weather network awaiting the perfect temperatures to tap the trees.  It won't be long now.
Creatively we always seem to be up to something.  Taliah crocheted a top for her doll.  I love that she made it up herself.  She had an idea and went for it.  Then she crocheted her a hair band to go with the top.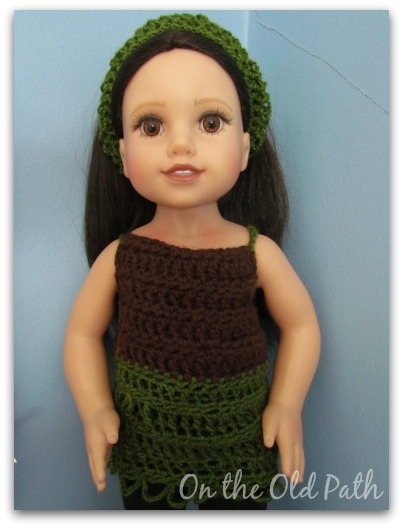 Where we live the closest village/town has a Youth For Christ worker who has organized a knitting club.  I believe the original intent was to have  a group of teens learning to knit.  Taliah was interested in going and I told Vivianne (YFC worker) that while I couldn't knit I could crochet, and if she'd like me to help others crochet I could do that.  This group has come together as a wonderful eclectic group of people, that spans more than just one generation.  Both Hannah and Taliah attend as well as myself.  There are teens and tweens, Grandmas and Moms that come out.  It is a fun couple of hours near the end of the week that we all look forward to.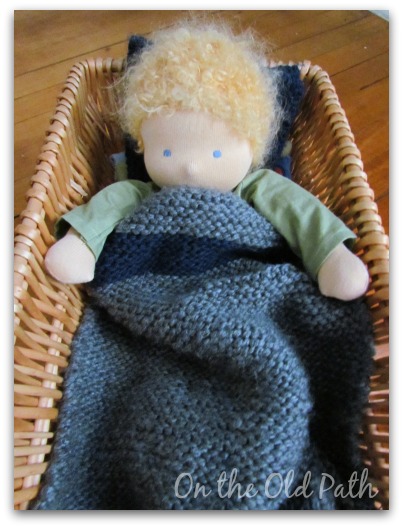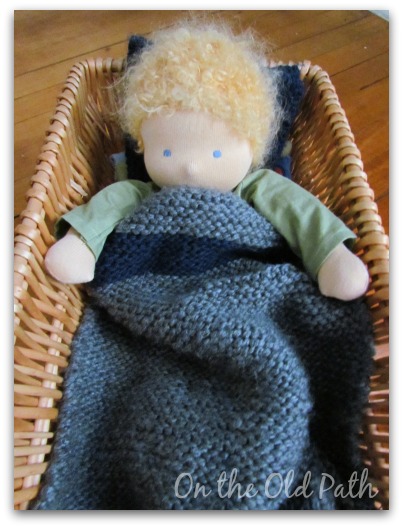 All that to say I have finally started to knit.  I made a wee pillow and blanket for Samuel's son.  Little Samuel came to live with us at Christmas time, and quickly became a treasured friend of Samuel's.  Samuel named him Samuel and refers to him as his son.  It is so cute to have him come and ask me if I have seen his son.  I made the blanket completely out of the knit stitch, because, well, it was the first thing I casted on and that was all I had learned to that point.  I have since learned how to pearl, and am working on a dishcloth just to get the hang of pearling.  My challenge is that I have many projects on the go, so knitting takes a bit of a backseat.  I do want to learn, though, and I dream of knitting beautiful sweaters one day!
I'd love to see what you are working on!
Pin It