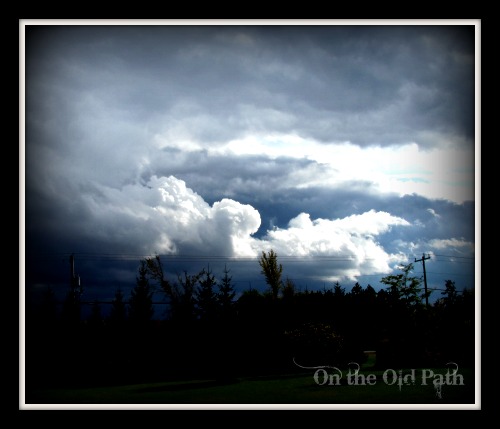 Have you ever been hurt?
This could almost be considered a rhetorical question,  at some point in time we all get our feelings hurt.  I haven't posted anything of substance because for the last few days I have been nursing some hurt feelings.  Oh,   no one has been mean,   it is simply (for lack of a better term)  the unfairness of life that has me down.   Which makes it harder as it is rather unconfrontable  (I made that word up!)
I hate how it has made me feel over the last several days.  I don't like feeling the way I am and it is totally counterproductive.  So what do you do when your feelings are hurt?  Do you wallow in it?  Suck it up and put on a brave face?
You see in my case,  I could argue that I have been treated unfairly, over looked… forgotten.  My feelings are Just.  Don't we as humans have such a sense of justice?   I have heard these words spoken by my children more than I can count, "But it isn't fair!!"  Even a child can see when someone is not being treated fairly,  and our sense of justice gets all riled up.  Ever dish out ice cream to children, "His scoop is bigger than mine!"   Where you purposefully trying to give one child more than the other?  Was your intent to hurt the one child's feelings? Of course not!  So what do you do when life scoops you the smaller bowl?
I have prayed much over the last few days and I certainly do not have all the answers.  My situation is not going away, it will stare me in the face for some time to come.  If I don't deal with these feelings now then they will grow.  If you have ever found yourself in my position I would welcome words spoken with gentleness.  Maybe you are dealing with hurt feelings right now.  If you are I guarantee you that nursing them along will do you no good.
Here is what I have learned…
I found this verse in the EVS translation,   not what I normally read but I found the wording cut to my heart.  Hebrews 12:15~  "See to it that no one fails to obtain the grace of God;  that no "root of bitterness" springs up and causes trouble, and by it many become defiled;"
Of course, I could be taking the verse entirely out of context,  but,  all week I have known that if I didn't get these feelings in check I was running the risk of bitterness growing in me.  Isn't it amazing that we can be wronged, having done nothing wrong ourselves,  but,  if we allow the seeds of bitterness to take root we are now in the wrong??  Do you love the way I said we,  to soften the blow to myself??  If I allow these seeds of bitterness to take root I will be the one doing wrong!
God's grace we all need it.  1 John 1:9~ "If we confess our sins, he is faithful and just to forgive us our sins and to cleanse us from all unrighteousness."  To be honest,   I cannot say if I have let it go so far as to cause me to sin,  but I have entertained my hurt for too long,  and my faithful and just God wants to hear my struggles;  preferable before they lead to sin!
Proverbs 4:23~ tells us, "Keep your heart with all vigilance,  for from it flow the springs of life."  If you have been hurt or wronged protect your heart and don't harbor bitterness.  Don't allow it to get the tiniest foothold!
Ephesians 3:16~ "That according to the riches of his glory he may grant you to be strengthened with power through his Spirit in your inner being,"   Your INNER BEING!  Isn't that the very place where our sense of justice screams from.  Deep in our inner being He can strengthen us with power through His Spirit in our INNER BEING.  I do not have all the answers,  I know we tell our children life isn't fair.   We are going to see injustice happen.  Sometimes it will happen to us,  don't let it make you bitter,  don't let it harden your heart,  don't let it eat you up and destroy you.
1 Peter 5:8~ "Be sober, be vigilant;  because your adversary the devil,   as a roaring lion,   walks about,   seeking whom he may devour:"  Don't let him still your joy,  your peace and your hope.
I know my situation is not going anywhere,  I know I will have to greet it many times in the future,  but I am not powerless.  I can wallow in it or I can turn to Jesus,  I can ask Him to make me kind and tenderhearted,  full of His peace and shining His love.  This is not a one time prayer,  I know I will need to fall on my knees again and again and pray this.  In time the hurt will be gone and by then my patient Lord will be working on yet another character flaw in me.  Thank you my friends for coming and reading!
Pin It