Summer is almost here, and while the calendar says we have a few weeks to go the temperature is already heading into summer numbers.  Which sends me looking for ways to stay cool.  In some parts of the country the first few strawberries will soon start bursting forth.  There are so many ways to use these little gems, from jams, to pie fillings, topping ice cream, to smoothies, or just eating them fresh from the garden, there are endless ways to use them.
How about cooling off with some Strawberry Lemonade!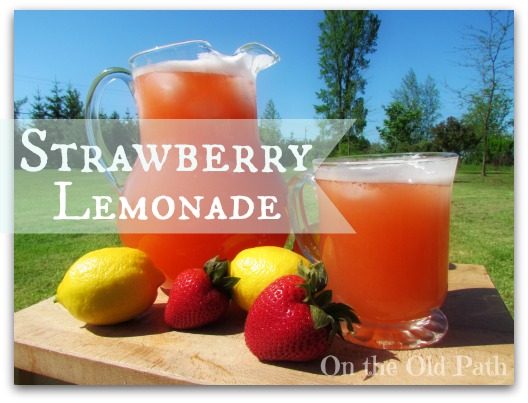 You'll need;
Fresh strawberries
Lemons
Sweetener (Sugar, honey, agave nectar, stevia)
Water & Ice
Blender
Strainer
Once you've gathered all that you need you're ready to get started.  I will give you some measurements, however, this recipe is one that I use the measurements purely as a guideline, and I'd encourage you to do the same.  Taste it as your going along.  Some fruit is so flavourful, well other times, it can be watery and a little bland.  So you may make your lemonade and think I followed it exactly and this tastes watery.  In that case grab another lemon and add it.  My children would probably suggest I double my sweetener,we all have varying taste for things.  Again if your berries are watery you may want to add a bit more sugar.  So use this recipe as your framework and go from there.
1 cup sugar or 2/3 cup honey (you could use stevia or agave nectar)
1 cup of water
1 1/2 -2 cups  of sliced strawberries
4-5 lemons
more water and ice cubes
For a pitcher of Strawberry Lemonade start by dissolving 1 cup of sugar in 1 cup of water. (2/3 cup honey in one cup of water)  You can do this on the stove top in a saucepan over a medium heat to speed up the process.  Once the sugar has dissolved in the water set aside.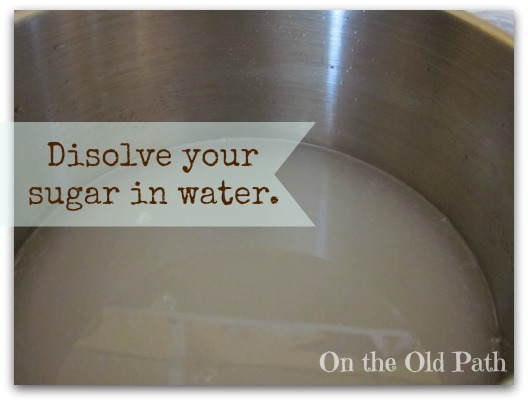 Next grab your berries, if you have not already done so wash, hull, and slice your strawberries.  If you have an amazing blender you could skip the slicing of them, but my blender is an old one and needs some extra help.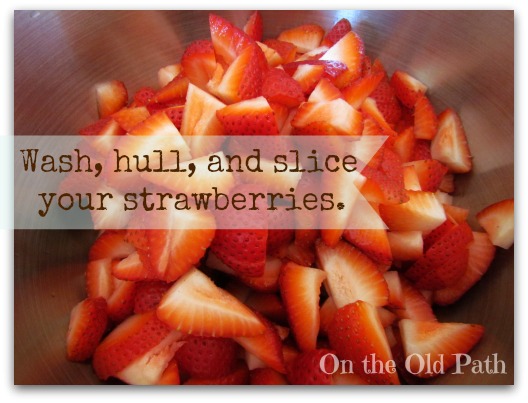 Juice your lemons.  Before I cut my lemon in half I like to squish it a little, I'll roll it along a hard surface like the counter and apply pressure to it with my hand, then I'll slice it in half and juice it.  Pour it through a strainer to remove any seeds.  Now some lemons are very juicy and strong flavoured while others are lacking, this is where taste testing will come in later.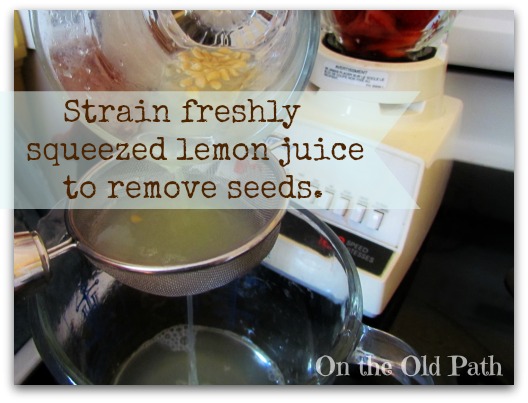 Add the juice of the lemon and your strawberries to your blender, and thoroughly blend.  If you have lots of helpers in your kitchen  feel free to put them to work, I do!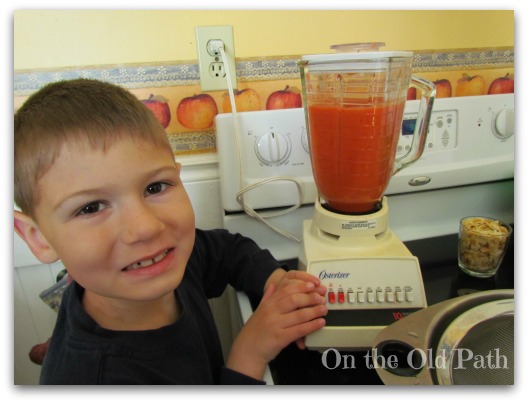 Next your going to want to strain this mixture, I don't have a berry mill or a strainer fine enough to remove every seed, but by pouring it through the strainer you will remove most.  If your worried that your mixture is too thick just add some water to the blender and mix it in, to give you a runnier consistence.  If you are like me and you don't have a very fine strainer you are going to want to avoid pressing it through the strainer as you could push seeds through.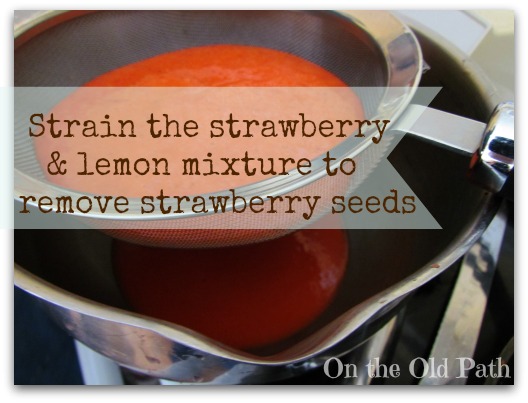 Now I doubled my batch to do two pitchers so at this point I divided my berry and lemon mixture between my two pitchers and added some of the sugar-water.  I didn't end up using all of my sugar-water, because I don't want my lemonade too sweet.  In the end I added the juice of a few extra lemons, in the past I've used 4-5 lemons and it has been plenty flavourful so I must have had a few lemons that were lacking in flavour.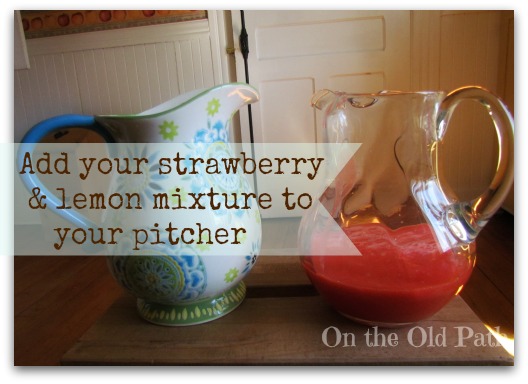 Fill the rest of the pitcher with water and ice, stir together and your done!  Now, pour yourself a glass after working hard in the garden and sit back and put your feet up and enjoy the taste of summer.  (You don't have to have just been working in the garden to enjoy this treat!)   You can freeze lemon slices and berry slices for a fun alternative to ice.  If you have fresh lemon balm growing in your garden you can use it as a garnish too!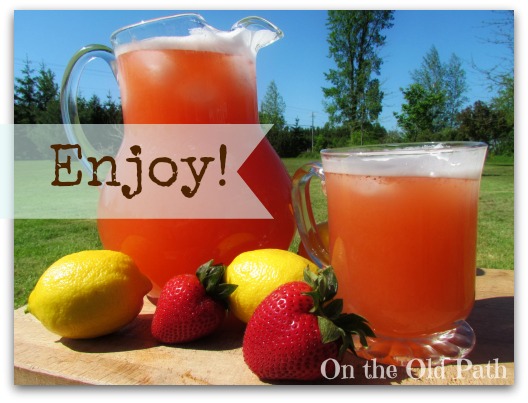 *Final note:  I know I mentioned this already but make this your recipe if you love strawberries then put 3 cups in and make it really strawberry-ish.  Have fun with it.
Pin It