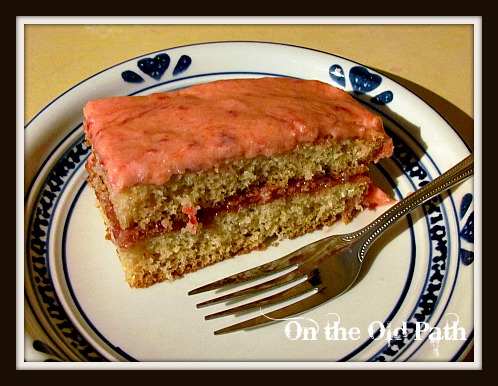 I have written 100 blog posts in my mind as I lay awake at night… when I should be sleeping.  The truth of the matter is I have set some… umm… for lack of a better term, 'family life goals' and have challenged myself that if I have not met those than I have no place blogging until those things are accomplished.  The good news is I am reaching those goals but by the end of the day, there is very little of me left.  So my poor 'Old Path' gets neglected.
This isn't a Clean Heart Clean Home Post but I promise to have one up next Monday, while I haven't been blogging I have been busy cleaning Home and Heart.  Next Monday I am going to give a wrap up post about the journey.  It was through that journey that I really felt the need to prioritize things a little differently and hence my blog taking a bit of a backseat around here.
I suppose the good news as I have begone to catch up on things around here and I am hoping to free up some time that will be 'blogging' time, well, that is the plan, we will have to see how things work out.
Some things to be watching for in the near future..
some crafting tutorials
an update on Field Trip Fridays
an update on

how I kicked the TV to the curb

Maple Syrup
of course I'll continue to update on Joel
when the weather starts to warm there will be Garden & Barnyard updates
and much more…
Taliah and I have been reading the Rachel Yoder series by Wanda Brunstetter and recently made the Hurry-Up Cake from Book 2.  I  thought I'd leave you with the recipe, my children all loved the strawberry icing.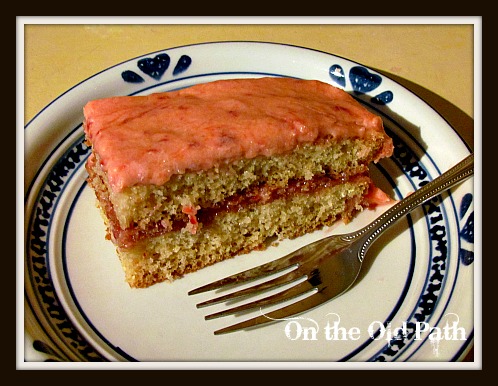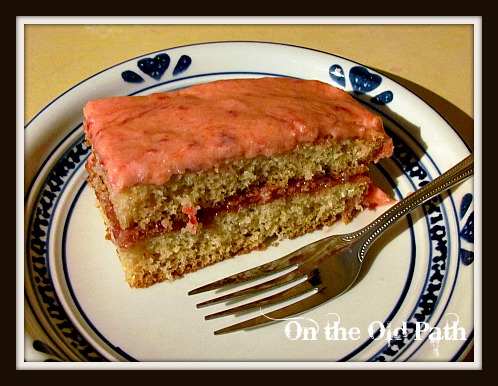 Rachel's Hurry-Up Cake
(which is included in 'Back to School')
Ingredients:
1 1/2 cups flour (do not substitute)
2 teaspoons baking powder
1 cup sugar
1/4 teaspoon salt
2 eggs
1/4 cup softened butter
1 cup milk
1 teaspoon vanilla
Preheat oven to 325 degrees. In a mixing bowl, mix the cake flour with baking powder, sugar, and salt. In a separate bowl, mix the eggs and softened butter. Add the dry ingredients and milk alternately to the egg and butter mixture. Add vanilla and beat hard for 3 minutes. Pour into 2 greased and floured 8-inch layer cake pans and bake for 5 minutes. Raise oven heat to 350 degrees and bake for another 30 minutes. Cool, remove from pans, then frost with strawberry icing.
Strawberry Icing:
4 tablespoons (or more) mashed strawberries
2 cups confectioners (powdered) sugar
1/3 cup softened butter
Blend butter and powered sugar together in a bowl. Stir in the mashed strawberries, adding enough milk to make a creamy frosting that is easy to spread but not too runny. Spread on cooled cake.
Pin It