I am beginning to think that if there were an award for the most forgetful blogger I would win it.  I forgot 'Field Trip Fridays,' again! I had something planned to share and I got side tracked once again.
I have been busy trying to get things made for Christmas and I fear little else is on my mind!  Maybe I will be really crazy and post it on Wednesday or something like that, you know me living on the wild side.
Today was one of those crazy days.  On Friday (when I should have been posting Field Trip Fridays) I made some real headway on Hannah's Christmas present.  Can't wait to show you!!  So this morning I went to work on it and my sewing machine would not work.  The bottom thread was not catching.  I checked the tension, re-threaded the machine.  Changed the needle, checked the bobbin, prayed, took it apart and cleaned it.  It felt like the top thread was catching on something, try as I might I could not find the solution…. so I called Mom.
My wonderful Mom popped by and she has been sewing since she was 4!  She can sew just about anything.  (Sadly, she never really taught me to sew I don't know why, maybe I showed no interest and she didn't want to push me…. sorry getting side tracked.)   Anyway she took things apart and had a really good look but alas, could not find the problem.  I am a little stressed as I still have a lot of sewing to do and it appears my machine is dead!!
Well, today was also the day we picked to go and cut down our Christmas tree.  Dave and I had noticed signs not far from where we lived and decided to go and check it out.  We always seem to have a moment where we should have turned back but we ventured on instead.  As we pulled in I noticed that there were NO tire tracks in the fresh snow.  Saturday morning near Christmas and no one has come to cut down a tree??  We go in the long driveway and there is no sign of anyone and there is a no trespassing sign by the house.
Dave bravely hops out of the van and ventures up to the door.  After knocking and waiting for a minute or two, an old man with no teeth emerges.  I watch as they talk and I see Dave give the man $20.  Dave comes back with vague directions you can cut anything down between the spruce tree and the no trespassing sign.  There were a lot of trees and more than one no trespassing signs.  We finally find some trees in the woods that are actually planted in rows.  We had to be very careful as the old man told Dave he sells a lot of trees in the spring they come in and dig them up so there are these huge holes in the ground!
Joel still struggles with cold weather and you have a 15 minute window where he goes from happy adventurer to crying I am going to freeze to death out here guy!  Elijah found a huge tree and as Joel was running out of time very quickly we decided to take it.  Just as I was going to take Happy Christmas tree picture the sand ran out of Joel's 15 minute hour-glass.  Can you have a 15 minute hour-glass??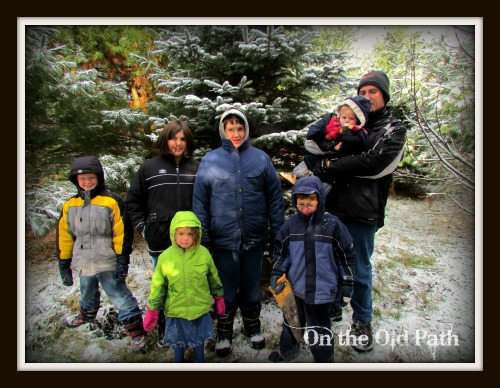 He still wanted to help cut down the tree so I think he was crying while he cut the tree.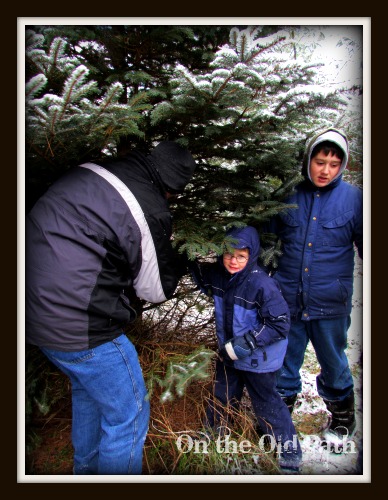 Of course, Joshua and Elijah had to have a go at the tree too!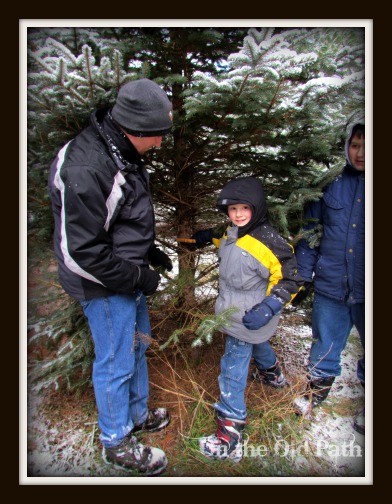 Dave then had to carry Joel back to the van.  Elijah and Josh hauled the beast of a tree out to the road.  I love that you can hardly see Joshua for all the tree.
Where we struggled to get huge tree on to huge van.  I am sure it would have been fun to watch us haul it on to the van.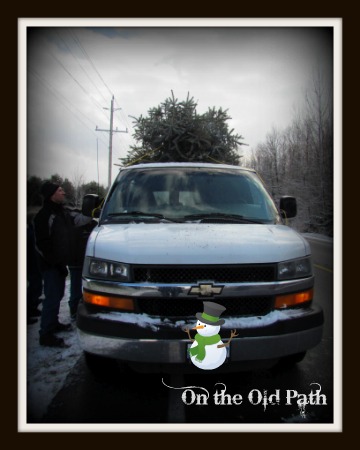 We made it home in one piece and the tree is standing in a room almost all to itself as we had to pull furniture out of the room to get the tree in there.
The guys wanted me to post the short video of them taking the tree off of the van… so here it is!
A little hot chocolate and a cozy blanket and Joel was a happy fella.  As I could not sew this evening I decided I would give the boys Christmas haircuts.  (They are normal haircuts, I just mean in time for Christmas.)   I don't know why but I decided I may as well cut Samuel's hair too.  I am constantly snapping pictures of him but I didn't think to do a before and after shot.  I did save a bit of his hair.  I didn't do that with the others but I didn't cut their hair so young.  It was almost harder to cut Joel soft new hair after Chemo but nothing stays the same and it was time for a little trim for him too.
I did take some pictures after Samuel's bath.  I tried posing him but he kept crawling over.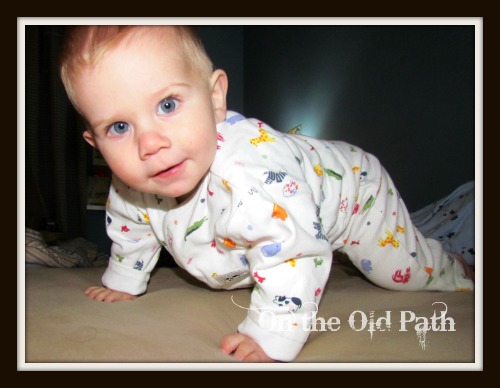 Finally, I gave up and pulled out some toys and then I got this cute picture of him.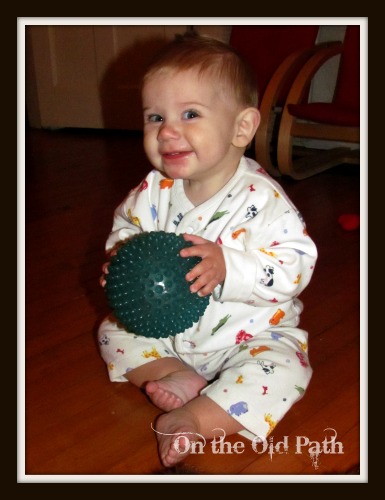 I had to share this one too he's make such a funny face.
Hope you are all having a great weekend!
Pin It