Finally, I can check something off my list of things to do!!!  I am by no means a great sew-er, I want to be…. but I am just not there yet.   However, I really wanted to make this a Homemade Christmas as much as possible.   I am a great idea person, not always the best at following through.  I have wanted to make myself a patchwork bag for a while now (at least 2 years) I have yet to do this but I thought it would be a great idea to make one for Taliah for Christmas.  Taliah loves to draw she brings a sketch pad with her everywhere.  If she comes with me to do the groceries it comes with her.  She often uses a shopping bag for her sketch pad because it does not fit well in her backpack.
I am sure I have mentioned before how we do 3 main gifts for the children, just like Jesus had 3 gifts.  They get a Gold, Frankincense and Myrrh gift.  The Gold gift is their special gift.  Frankincense is something to grow their relationship with the Lord.  Finally, the Myrrh gift, (as myrrh is still found in soaps and things) is their bedtime/bath time gift.  As we are travelling over Christmas this year and they won't be home until around the 30th I am also making little gifts for while we are away.  I figure it will not be easy when all the friends and family we will visit with will have had their big Christmas morning and my children will still be waiting I had better have some fun stuff along the way.
Taliah's gold gift is this art bag I made with a new sketch pad and pencils.  I had no pattern just an idea and I made 100's of mistakes along the way but I love how it turned out.  If I have time before Christmas (Bahahahahah might be January) I will finally make a slightly smaller one for myself (I don't carry a large sketch books with me!)  I used old jeans that I 'upcycled' into this groovy bag!!!   What do you think!!!!
Back of the bag.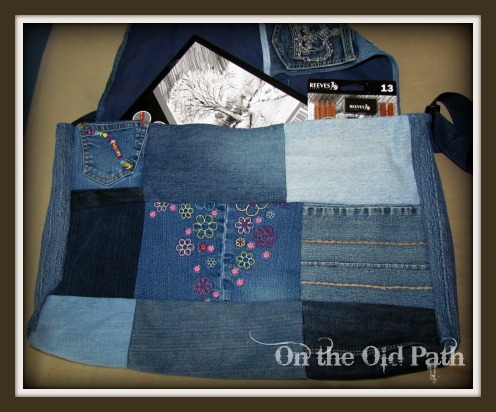 Under the front flap.
Sorry picture quality on this one is a little poor but it says, "Have a funny day."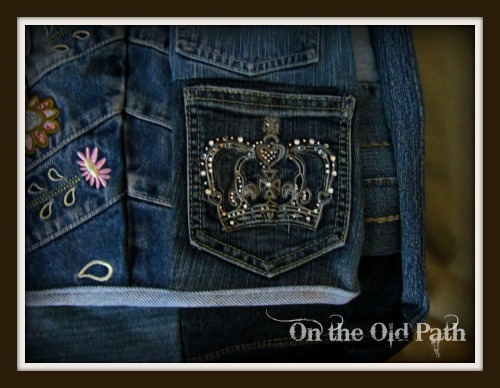 I love the bling!
I also sewed a pocket and pencil-case to the inside liner so she can keep pencils and erasers etc. in her bag.  Not bad for a beginner!  I hope she likes it.  Hopefully, I will have more projects to share very soon.  Oh, check back tomorrow night Joel has something to show everyone!
Pin It