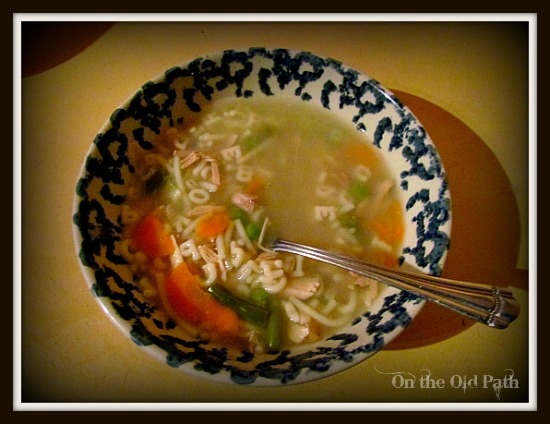 With Holiday season upon us, Canada just had their Thanksgiving and the US's is fast approaching and Christmas on it's heals what do you do with all that leftover turkey? Hot turkey sandwiches with gravy on them. Turkey casserole?
How about the bones, why not put them to work too?? Making soup is really quite easy. Here is my step by step instructions to making yummy turkey soup.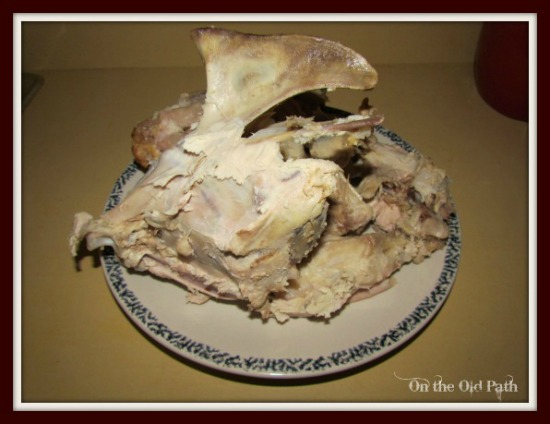 Once you have removed most of the meat from the bones grab the biggest pot you have and fill it with water. Don't worry if you don't get all the meat off when you are done cooking the bones the meat will fall off.   Add your bones to the pot and then gather your other basic ingredients for making a broth.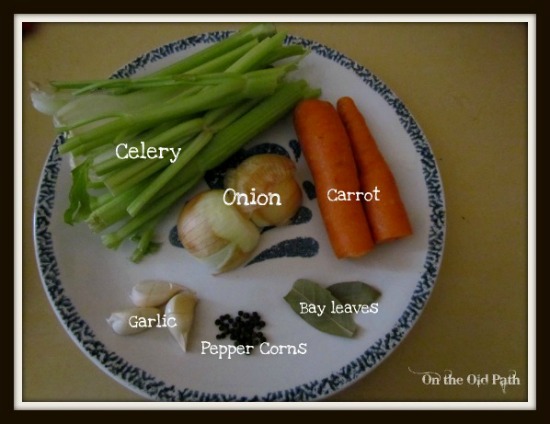 You will want to wash your vegetables to be sure there is no dirt on them but it is not necessary to prepare them further.  I do slice the onion in half as well as the garlic and snap the carrots and celery in half.  Now some people will add egg shells to the stock as well and  others will salt it but this is a good basic start to making your broth.  You are going to want to add all these ingredients to the pot and bring to a boil.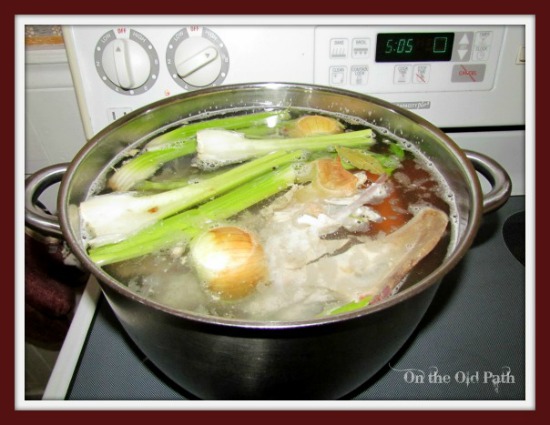 Once your broth is boiling you can turn it back and let it simmer for a little over an hour.  Once your broth has simmered away you are going to want to get a large bowl or pot to strain your broth.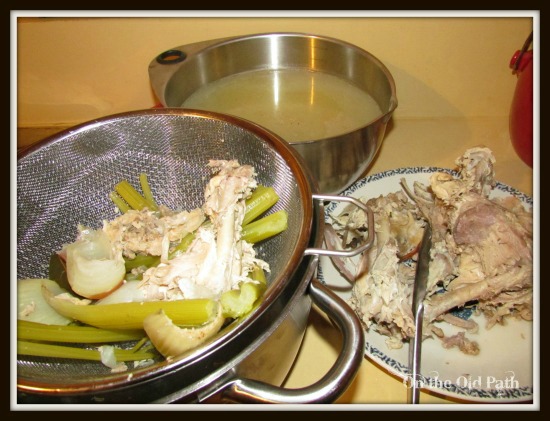 Remove the extra meat from the bones it just falls off!   If you are as fortunate as me any skin or fat can go out to the barn cats!  Set the meat aside you will need this later.  I also like to set aside some meat that I pull off for making casseroles to go in the soup I like a a few cups but it is really up to your individual taste.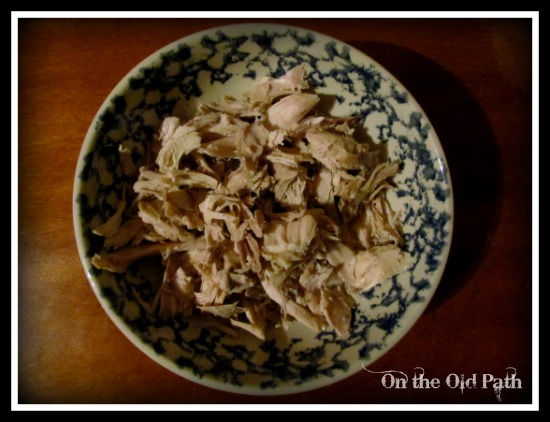 l
I like to strain my broth again with a fine strainer. 
At this point your broth will look something like the picture below and it is perfectly fine to go ahead and make your soup now.  There is a little fat on top which if you have a really fine strainer could take care of this.
If you have time however,   I like to add this next step.  Cover your broth and put in the fridge overnight or for a few hours.  The fat will solidify and is very easy to remove.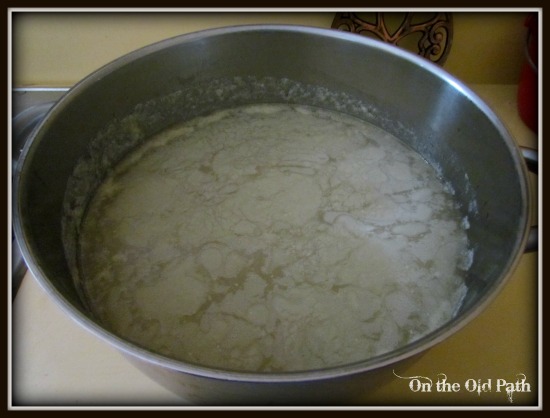 Once you have removed all the fat you can return your pot to the stove top and bring it back to a soft boil.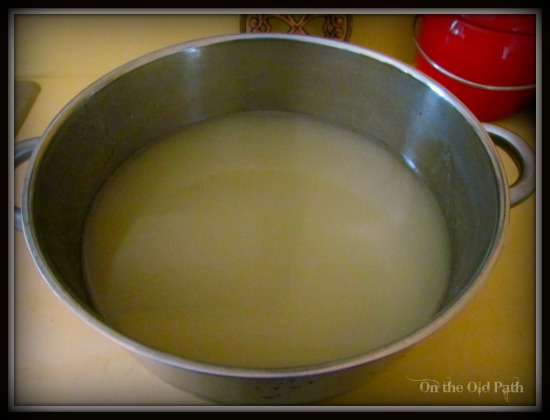 Now comes the fun part it is time to add your meat and veggies and noodles etc.  This is where you can get creative.  I try to throw in all sorts of things.  I like to add lentils and barley
.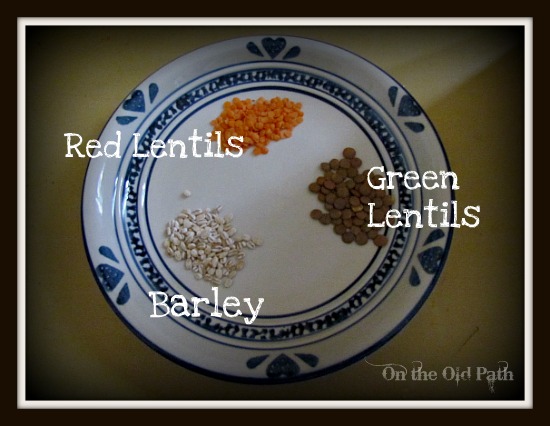 For some reason that I have absolutely no explanation for I stopped taking pictures but I can tell you what else I added.  Chopped carrot and finely chopped onion,   I had some leftover green beans from the night before so I put them in too.  I had some alphabet noodles that I added to put a smile on my children's faces and some peas.  I think that is all that I added.   The fun thing about soup is you can add just about anything, leftover rice throw it in.  How about some beans… really any veggie you like.  If you have picky eaters don't add your meat and noodles throw all your veggies in,   once they have cooked through use a submersible blender and blend it smooth add your noodles and meat and the picky eaters will never know the difference.   Serve with crackers,  biscuits or buns and you have a nice meal.   Some people like to do soup and sandwiches or soup and salads either one would work out just fine.  We had enough soup for at least 2 meals.  We all had supper from it and then I froze the rest for another day.
Enjoy!
I almost forgot don't forget to save the wishbone 😀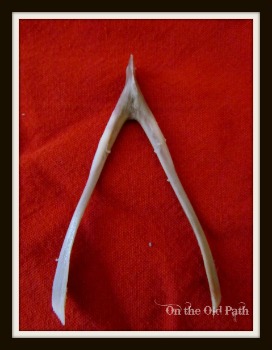 Overview
Place bones in large stock pot and fill with water add carrot,   onion,  celery,  garlic,  pepper corns and bay leaves.  Bring to a boil and then turn down to a simmer for just over an hour.
Strain broth and remove any extra meat.  Strain again.  Refrigerate and then remove fat.
Return to stove top.  Add red and green lentils,  barley,  chopped carrots,   finely chopped onion, peas and noodles.
Pin It