If you are Homeschooling 6 kids,   you cannot always be buying consumable work books,  so,  I am always on the look out for great resources and I have to say I have found one.   A little while ago I came across a website with a bunch of videos of Jan Brett teaching how to draw various animals.
If you are not familiar with Jan Brett's name you may be familiar with some of her work.
 The Mitten is probably one of her most well known pieces but she has written and illustrated many books.  All you have to do is Google Jan Brett's illustrations and you will see her beautiful work.  To be honest I know very little about Ms. Brett, but what I know from watching a few of her videos she has a love of creatures and she must enjoy children too.  She is entertaining to watch as she uses simple directions in her videos.  She does not talk down but is very encouraging to young artists of any age.  She will tell you it is okay to make mistakes when you are creating.
Here are a few drawing from my household now in the video we did today she was using water color to add her color but we just used pencils.  Today was our first time watching the video and this was our first attempts ever  at drawing a Husky not all of the children participated but here is what we ended up with and I am sure if we watched the video a few more times and worked at it you would see much improvement.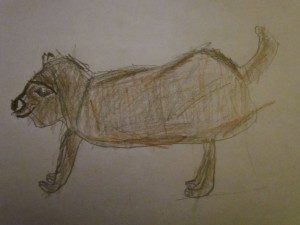 If you would like to check out these fun videos as a free Homeschool Art lesson then go to Jan Brett's Videos and have some fun creating!!
Pin It