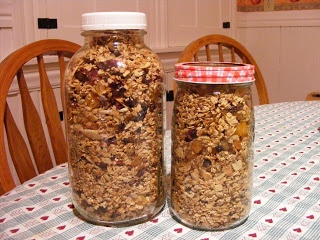 I thought I would share my recipe for granola. It is something we all love here and it is really good for you too! First thing to do is gather all your ingredients together.
You are going to need;6 cups rolled oats
1 cup sunflower seeds (raw)
2 cups sliced almonds *
1/2 cup sesame seeds (raw)
1/2 cup flax seeds
1 cup shredded coconut (raw)
mix together and set aside
* You can use cashews, walnuts, hazelnuts or any combination you enjoy.In separate bowl combine;
2 tsp cinnamon
3/4 – 1 cup maple syrup or honey
1/2 cup olive oil
1 tsp salt


I mix together the oil, maple syrup, salt and cinnamon (you can also add a little vanilla if you like to this mixture) and then mix it into the dry ingredients.

Place the mixture onto two large cookie sheets. (I love to use my bar pans from Pampered Chef.)


This is going to brown up in the oven you will need to gauge the time as everyone's ovens vary a bit. As a rule I set my oven for 350 and flip it after about 10 minutes and then I repeat that about every 5 minutes until I am happy with that golden granola colour.

Next step is adding in the dried fruit whatever you like. This time I had raisins, currants, cranberries and apricots. If I can find blueberries dried I love to throw them in too, dried apple would be nice as well. (I don't normally arrange my fruit on a plate like that I just toss it into the bowl. I did the plate thing just for you guys 🙂 )
Just a shot of the fruit looking yummy!!


Add the dried fruit to the granola and your done!!

One of my favorite ways to eat granola is on top of some apple sauce. I thing everyone in our family has a favorite way to eat granola, some like it all by itself, some like it on top of yogurt or ice cream, and some like to put in with their oatmeal or by itself with milk on top!!
It stores great in mason jars but any airtight container will work fine. Enjoy!
Pin It