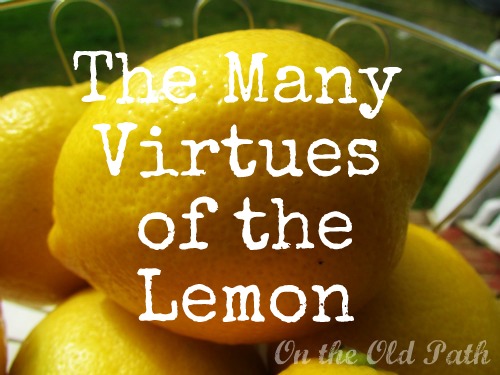 It is currently the time of year when people are juicing their lemons for some delicious homemade lemonade and while lemonade is great there is so much more to lemons than just lemonade.  Not to long ago, I shared a recipe for homemade strawberry jam, I told you not to throw out your lemon after you juiced it, today I'll share all sorts of tips and tricks for lemon use.
I enjoy fruit of all kinds this spring I shared about our love for apples and some of the benefits of apples.  Well, lemons come with their own long list of benefits and uses.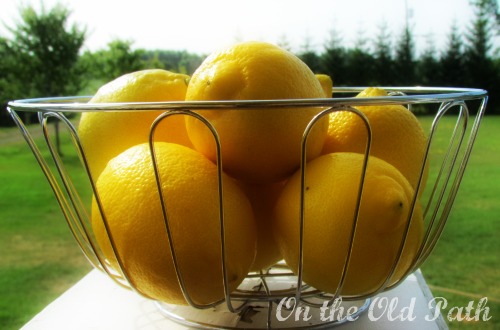 Lemons are known for their antibacterial and antiviral and immune system strengthening abilities.  For that reason alone they should be a welcomed addition to our daily diet.
Lemons help in the production of white blood cells and antibodies which fight against infection.
Lemons act as an antioxidant which can assist in the prevention of diseases like cancer, stroke, & cardiovascular diseases.
Lemons increase your levels of good cholesterol (HDL)
Lemons can help settle stomachs
Lemon can help with inflammation and arthritis pain
Lemons can lower blood pressure.
Some ways to put lemons to work for you…
For fever, flu, and cold you can drink lemon water sweetened with a little honey every 2 hours for relief and healing.
For sore throat gargle with lemon water and sea salt several times a day.
Lemons can speed the healing of a canker sore, mix the juice of a lemon with some warm water and rinse your mouth several times a day. There will be a stinging sensation the 1st few times, but the antibacterial and antiviral agents will do their work.
Lemon juice can help treat a urinary tract infection by drinking lemon water several times a day.
Lemons can freshen your breath.
You can rub lemon rind on your skin to deter bugs.  You can mix lemon juice with water and mist the air around you outside to keep bugs away.
Lemons juice can be used as an astringent, it can help clear up and prevent acne.  Giving your skin a glow.
Lemons can be used to lighten hair.
Lemon juice helps to remove dandruff and greasy hair.
Lemon juice applied to bug bites, stings, and poison ivy etc. will help relieve pain and itch.
Lemon juice mixed with water helps prevent dehydration in the case of diarrhea
Lemon juice when used as a marinade will kill bacteria and organisms on the meat.
As I researched the many benefits of lemons there were a whole host more probable benefits, for example, it is believed lemon water will aid in weight loss.  As most articles that I read said it is believed I don't want to state that as fact, but really if you replace what you are drinking and drink lemon water you will reap many benefits and weight loss may just be amongst them.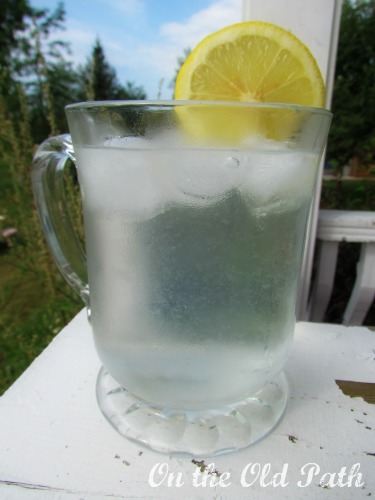 Those are some of the benefits of lemons, pertaining mostly to health.  We all know there are countless yummy sweets that can be made with lemons.  I won't spend much time on that but I do love lemon bread.
Lemon is a fantastic cleaner.  You can use lemon juice to clean just about anything. You can use it to help remove a stain.  Apply it to underarm stains.   You can add water to lemon juice and mist the air as an air freshener, or heat some lemon juice and water in a saucepan to achieve the same effect.  You can google lemon homemade cleaner and come up with a whole bunch of options.  It can remove hard water stains, lime scale, soap residue, and rust stains. (Lemon juice can lighten fabrics so if you are using it to remove a stain rinse thoroughly.) Combined with olive oil you can use it as a furniture polish.  Lemon juice can even break down gum so before you reach for the scissors grab a  lemon.
Quinn, over at Reformation Acres shared how she makes her own citrus vinegar, this is great in the laundry, to help freshen and brighten your wash, or you can dip a cloth into the citrus vinegar and toss it in the dryer as you fabric softener.  Anywhere I used vinegar to clean I like to use the lemon vinegar.  (I need to make some more.)  That is one way to use your peels.
Another way we like to use our leftover peel after squeezing out the juice is as a scrubie.  All you need is your deflated lemon half and some baking soda.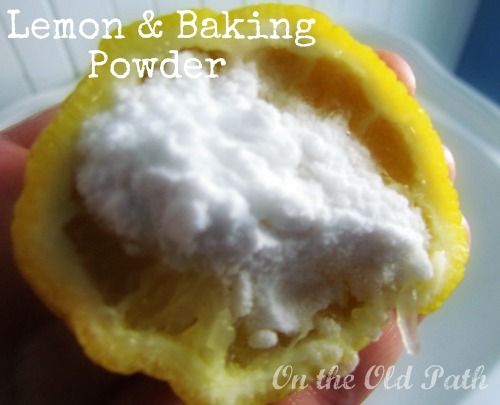 Children will love cleaning with these lemons and there are no harsh chemicals to worry about.  The lemon and baking soda make a fun fizzing sound and it foams up a little.  Lots of fun not to mention after you scrub with these guys the rooms smells fantastic!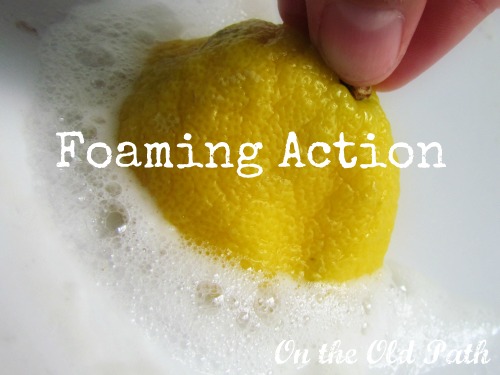 You can clean bathrooms this way, tile, pots and pans, dishes…
Another use I have for my de-juiced lemon is a Fruit Fly Trap, I am sure you have all seen one of these before, there are many pictures of them floating around the internet, with millions of fruit flies in them.  I on the other hand only had a few in my house but this method really works for me.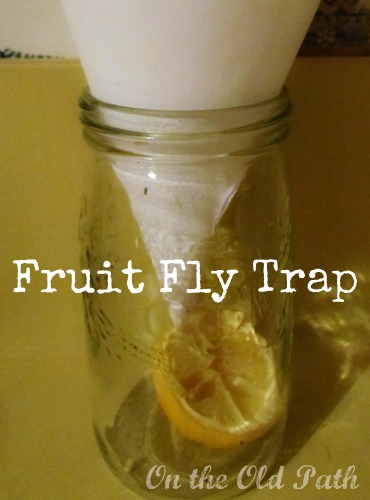 Most of the traps I have seen have apple cider vinegar in them. I tried that and my fruit flies didn't like it.  I noticed all the fruit flies around my squeezed lemon and decided to try that and it works like a charm.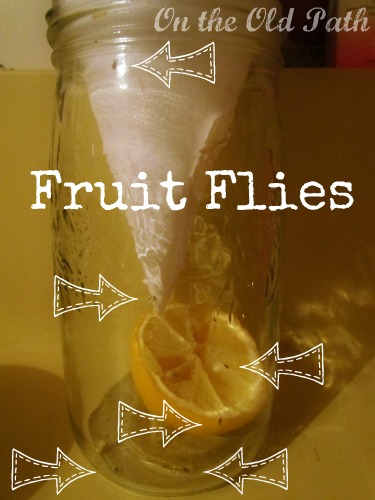 Lemons are definitely, not native to where we live, yet I love using them.  I have been looking into the possibility of an indoor tree.  I have just discovered a nursery that sells lemon trees about 1 hour from here so I am excited to give them a call and find out more about them.   Anyone have an indoor lemon tree?  Do you have any other uses for lemons?  I'd love to hear them.  One thing I didn't talk about is lemon as an essential oil and that is because I will be doing a follow-up post in the near future about that, so be watching for it.
This post was shared at Deep Roots at Home EOA Link Up, Raising Homemakers, Simple Lives Thursdays
Pin It