Traditionally, when someone would use the word orchard they would be describing a piece of land set apart for the use of fruit trees.  Today people often think of apples when they hear the word orchard.  Here at the Old Path I guess we have taken a more traditional approach and mixed in various fruit trees.  Living in an area of the country that experiences harsh winters we need to plant varieties that are hardy.  Thankfully when we moved here some of the trees had already been planted.  Slowly we are adding to their numbers.
In early spring Dave was out pruning the trees and getting them ready.  This weekend Dave and Joshua planted a plum-tree and a pear tree.  The blossoms are springing forth and they look exquisite.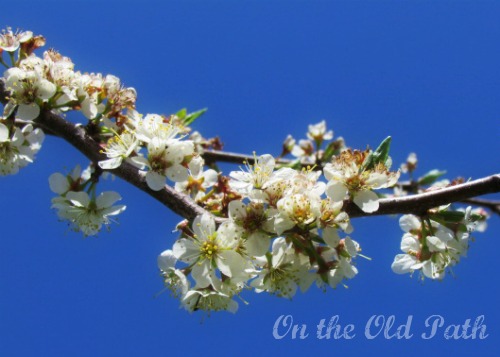 I can't help but look forward to the potential crop of fruit!
We have also been busy in other areas of our little homestead, how many vines constitutes a vineyard? Well, currently we only have five.  The first vine is a well established one that was here when we moved in and blesses us with a generous crop.  The next three are ones that Dave started from the original vine. We use these grapes for making juice and jelly.  The fourth is a different variety altogether and is more for eating.  Again, Dave has been busy tending the vines and getting everything ready.
As for the berries we are happy to see the blackberry bushes coming back, we planted them last year and were a little worried with how they would fare through the winter.  In the early spring we planted two different varieties of raspberries and they seem to be coming along too.  Our blueberries that were planted 2 years ago did not do so well through the winter we lost two and the other three look poor.   We have replaced the two that didn't make it and our now looking into ways to strength the three that are struggling and maintain the health of the two new ones.  Currently we are trying to lower the pH of the soil around them.
Finally, we have some strawberries that made it through the winter and 25 more plants to add to the strawberry patch.  We are going to relocate all the strawberries to a new patch this year.  Today Dave is going to turn over the new patch and begin to get it ready for planting, as well as, our vegetable garden.  So he will be quite busy with that.  We have had so much rain that this has been our first break to really get outside and do stuff.  The lists of things to do are getting longer and there is more rain in the forecast so we hurry to get done what we can before it rains again!
Pin It