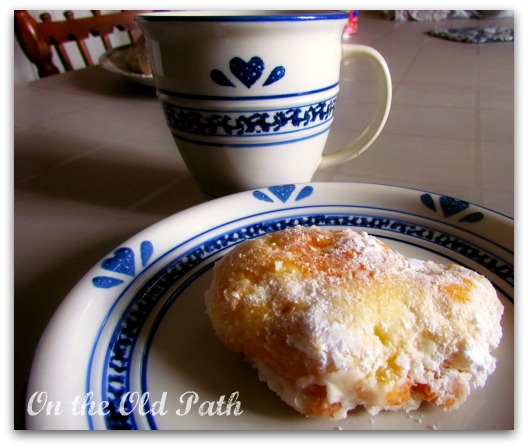 The other day I shared how much our family enjoys apples, and I rattled off a crazy long list of things you can make with apples.  One of my readers asked if we had the recipes for all those things on the list specifically the fritters.  We have made many of the things on the list but there are still lots that we have yet to try to make ourselves.  I am looking forward to the day we are producing enough apples to make cider!
However, for a treat we do like to make fritters and today I'll share our secret recipe…
Enjoy!!
Old Path Apple Fritters
2 cups of flour
3 tsp baking powder
1 tsp salt
2 TBSP powdered (icing) sugar
2 eggs
1 cup & 2 TBSP milk
4 medium apples (peeled & chopped)
oil
extra powdered (icing) sugar for coating
In a large mixing bowl add in your flour, baking powder, salt, & sugar.  Next add in your eggs and milk and mix together.  The consistence should be more like a really soft (almost runny) dough as opposed to a batter.  Add in your apples.  In a large frying pan heat your oil on medium so that when you drop a few drips of water in, it spits at you.  Using a heaping tablespoon, spoon your fritter dough into the oil.  Fry until golden brown and them flip them once to cook the other side.  Place the freshly cooked fritter on some paper towel to soak up any extra oil.  Then grab a Ziploc type bag and add your powdered (icing) sugar and shake your fritters in bag a couple at a time to coat with sugar.
Here is the process in pictures…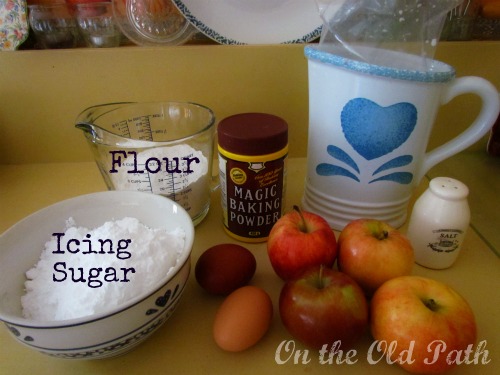 Gather your ingredients together.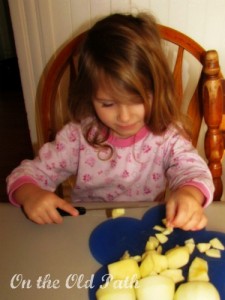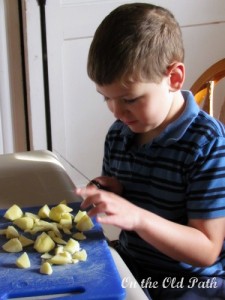 Have your helpers finely chop the apples!
Combine your ingredients together (this is just before we added the apple).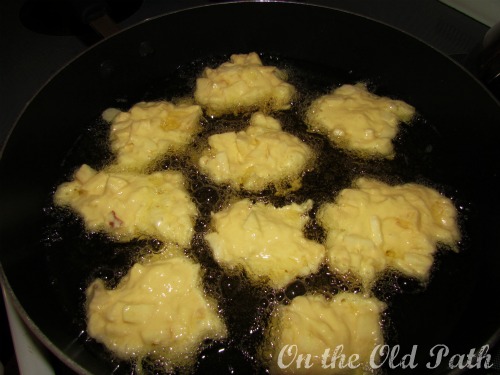 Drop batter by heaping tablespoon into the heated oil.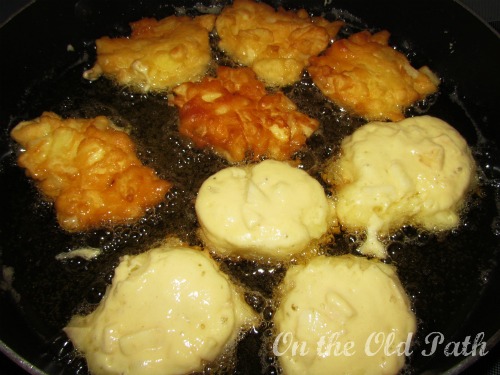 Flip them just once when they start to brown up.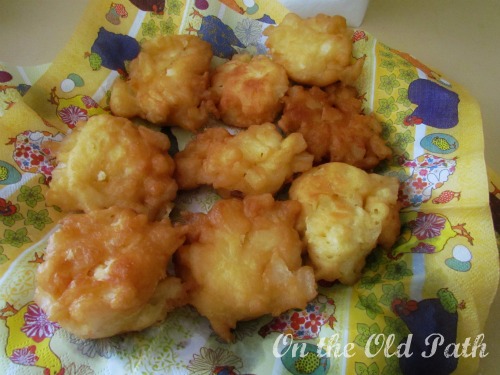 Place them on paper towel, we did not have any,  but chicken pattern napkins will work just fine too!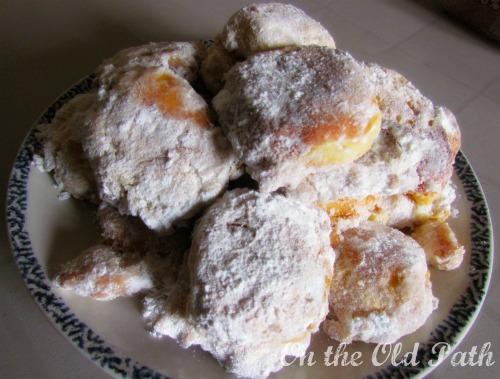 Forgot to take a picture of the powdered sugar in a bag / shaking process but I am sure you get the idea.  So there you have the finished product.  It makes for a special breakfast but as these are rather sweet I wouldn't do it too often!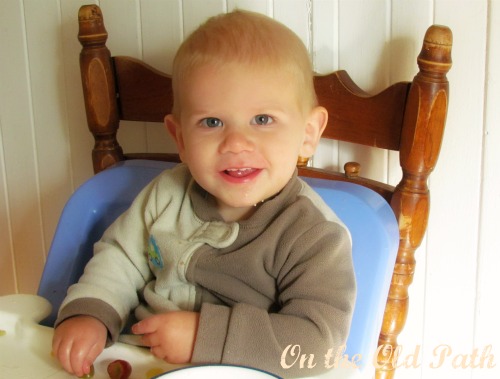 Here is Samuel enjoying some grapes with his fritter!
This post was shared at Five Little Chefs
Pin It