Woke up to this sight this morning,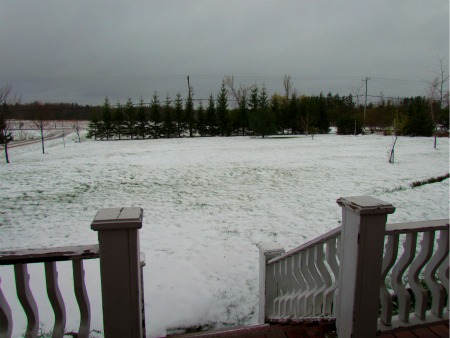 Not really my idea of fun, yet to tell the truth not necessarily a shock.  I can remember coming home from University to snow piled up high.  Also it never seems to fail that when I have to take Joel to CHEO if there is stormy weather in the forecast it lands on the day that I have to take Joel in.  Guess what I am doing today?  Yep, Joel's post-op is today and it is raining now with wind gusts of 48 km/hour.  I really dislike driving in yucky weather.  Wishing Dave could come with us today.  I think I will leave early and take it slow.
At least the plows and salters will have been out for awhile by the time Joel and I have to leave.   Joel looked out the window and started singing Christmas Carols.
Feel free to pray for safe travel for us, I'll gladly take the extra prayers!
To further confuse you all I am planning to write a post later today with pictures that have beautiful green grass and sunny skies obviously from a few days ago.
Pin It