This winter has been anything but normal.  It was slow to start and then we got a lot of snow and now it is warm enough to put the buckets up and we are still in February.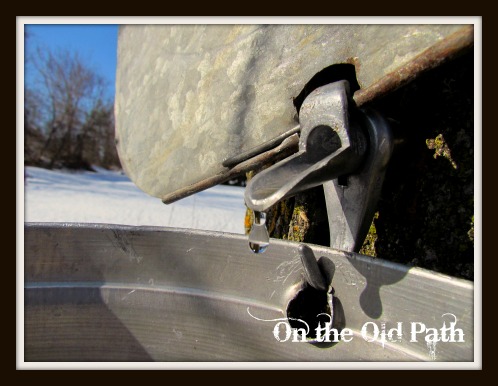 Basically sap starts running when temperatures climb above freezing during the day and drop back down at night.  Your best sap days will be when you are just above freezing and the sun is shining bright!   Yesterday, David and some of the children headed out to hang a few pails.  Later this week they will hike into the bush and hang the other pails.
I love making syrup and I'll post pictures and how to's later once things get running.  This will be our third year making maple syrup and it is something we look forward to each year.
Here on my blog I try to keep certain things compartmentalized, this is a post about homesteading, that is a post about gardening, and that one is about Joel.  Somehow life spills over and I find it impossible to separate things.
Hanging the syrup pails is one of those things that I cannot separate.   Two years ago in March 2010 when we hung our first ever maple syrup pails I pulled out the camera and we took pictures.  It was our first time, did we angle the drill just right?  How far apart do we put the pails?  The children were so interested most of the pictures I took had the backs of their heads as they were so interested in what Daddy was doing.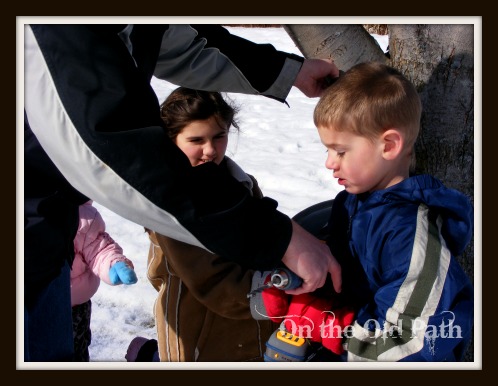 These were the last pictures I took of Joel before our lives changed so drastically.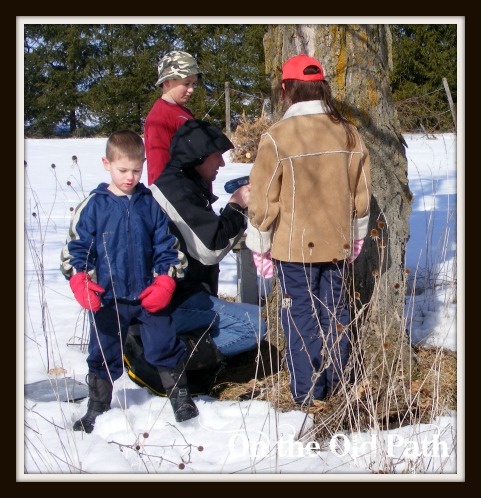 The next picture I took would be a couple of weeks after his surgery.   It took me two weeks because I was afraid that someone might think I was exploiting him or something like that I didn't want his life to become a whole bunch of medical pictures.  As we look back there are very few medical pictures of Joel most of them are of  him painting or snuggling in the hospital.
Some how Maple Syrup seasoning has become a marker for me.  Here is a picture of his beautiful little head, his big brothers were growing rat tails (I am not sure why that was the fashion rage at the time in our house) and 4 year old Joel was the last to jump on the wagon.  When they shaved the back of Joel's head for surgery they put his little tail in a ziploc bag. 🙂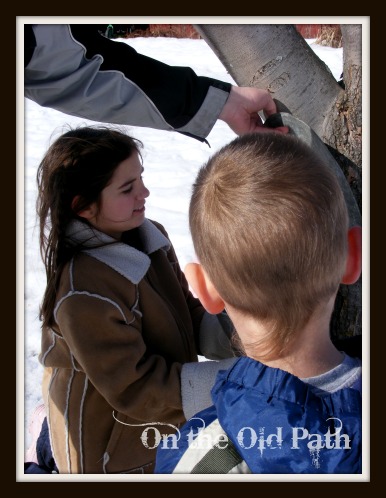 Last year was really hard, we hung the pails and Joel was too cold and tired to come outside for the hanging of the pails.  On a warmer sunnier day he did go out to check the sap.  Taliah held on to his hand and tried to steady him as he stumbled along to the pail.  Then he sat on a piece of wood to catch his breath before heading back into the house.  I looked at the pictures from 2010 and saw those full little cheeks and my heart broke as I looked at my sweet bald and so skinny little guy.
This year while his gait might be slightly wobbly as he maneuvers the uneven ground he marched out to the tree all by himself, once again his cheeks are round.  He is wearing glasses (when we can find them) now and there is the tell-tale scar at the back of his head.  He still has a long road of recovery ahead of him, but there is already a little part of me that looks forward to the Maple Syrup season of 2013 to see how far we have come.  Sweet.
Pin It