Today was like finishing a chapter, perhaps even a story.  I have no idea how many chapters or stories will be written in Joel's life but today finished off cancer treatment with the removal of his Port-a-Cath (central line).   Joel's journey is far from over;  he still has a lot of rehab ahead of him and perhaps one more surgery for his eye, but I pray we never have to write about cancer treatment and Joel in the same breath ever again.  We have been told about all the challenges that lay ahead of Joel and about possible side effects so I would ask you all to please keep praying for him.
Today however, we celebrate!
Joel got up bright and early ready to head off to the hospital.  On the way there he asked again just to be sure, "They take my port out?" We once again went through what would happen today.  Joel was in a great mood and actually spoke to one or two people at the hospital (this is extremely rare for him.)  He had specific requests with how he was to be sedated.  He wanted the mask first,  followed by an IV once he was out.   He also wanted to watch a movie as he fell asleep.  They were more than happy to accommodate him.  He was humming a tune as he walked into the OR and helped with getting himself onto the operating table.  He helped to hold the mask in place as he went off to sleep.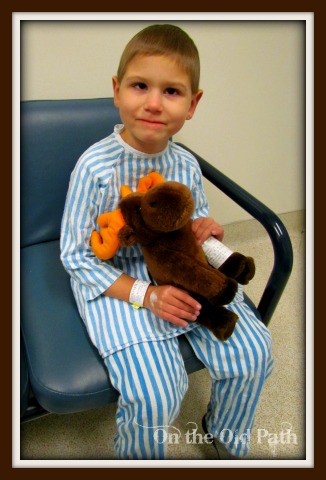 Often Joel can wake up from sedation rather grumpy and try and pull his IV out, today he woke up beautifully.  He was quiet as a mouse and waited patiently for them to remove his IV.  He was a little cold and a bit sleepy,  but was happy to get an orange popsicle.  He was a real little trooper once again I am so proud of him!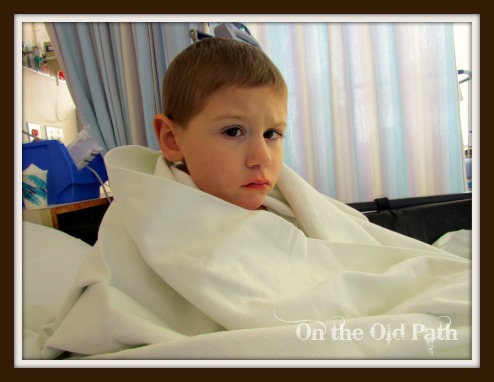 Tonight Joel has been running around the house and now he is happily watching a movie with his brothers and sisters.  To look at him you would never guess he had surgery today.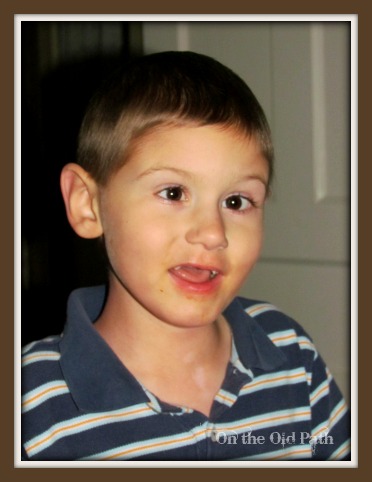 Here is Joel after eating pizza, he had to run in to tell us all about the bear in the movie!! Thank you all for your prayers and support we could not have asked for a better day!!
Pin It