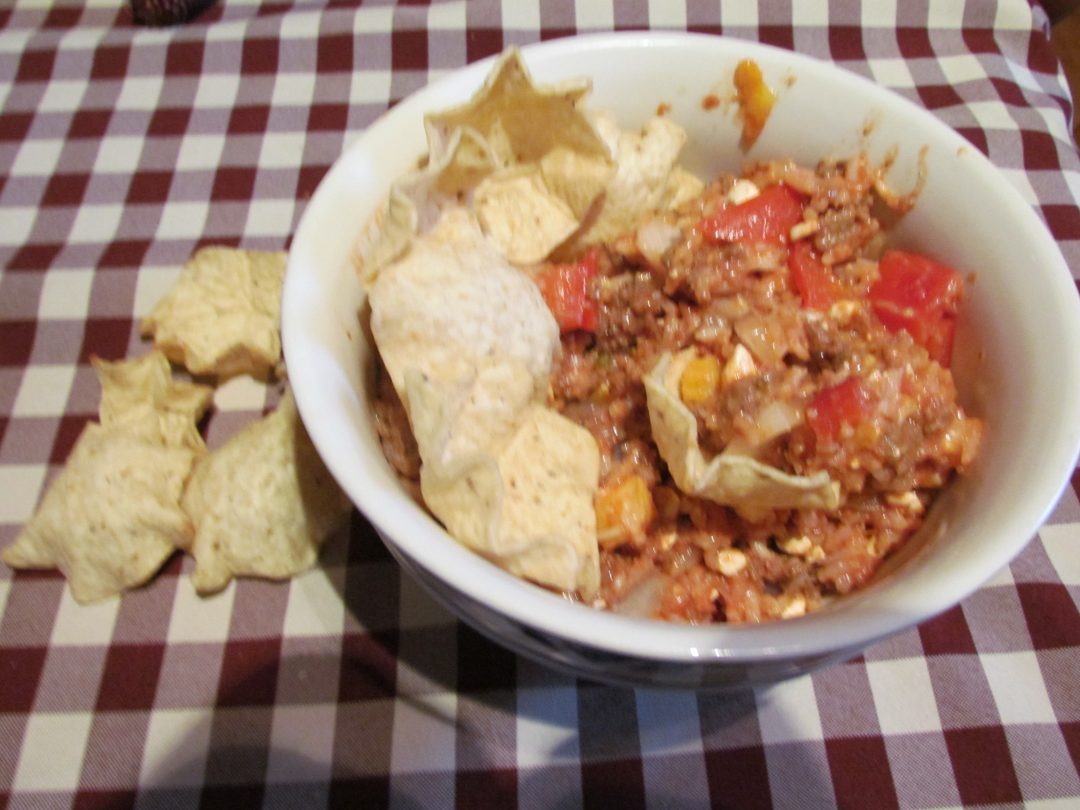 As promised here is my recipe for Mexican Dip. Now I can't rightly say why this is called Mexican Dip but that is how we know it. My whole family likes it and I have never met anyone who didn't like it but… it isn't going to win any awards for presentation.
Now I am making this for a growing family of 8 who like leftovers. Also, this recipe freezes very well! Fell free to 1/2 this recipe. This recipe will feed my guys and it will put about 4 – 5 man size servings in the freezer for Dave to take to work.
Mexican Dip
3-4 pounds of ground beef
2 large peppers (could be red or green)
1 large or 2 small sweet onions (I've used regular cooking onions too)
2 cups uncooked rice (any kind)
2 cups cottage cheese
brick of cheddar cheese (cubed)
crushed tomatoes
garlic powder
oregano
chili powder
salt and pepper
Now when I cook I kind of wing it so that is why I don't have super exact measurements, here goes.
In a large pot pour 4 cups of water, bring to a boil add 2 cups of rice. Stir rice then return the lid to the pot and turn to low. Basically, follow instructions and cook times for the type of rice your using.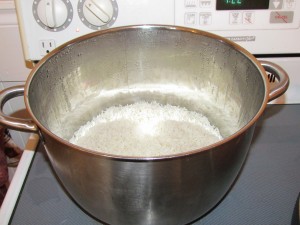 Once my rice is started I prep my veggies, cube my cheese, and add my spices to the cottage cheese.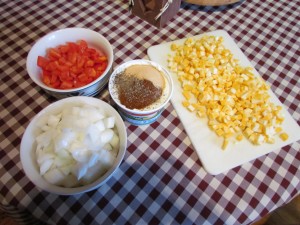 However you can do this in whatever order works the best for you. If you have a helper you can get them helping with the ground beef. In a separate pan brown your ground beef, drain fat from meat and set aside.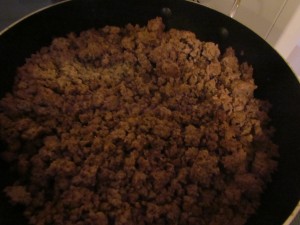 If your rice is already done you can add it to the pot of rice.
Chop your peppers and onions,
fry them but only for a few minutes you want them to still have some bite. Add veggies to the rice and meat.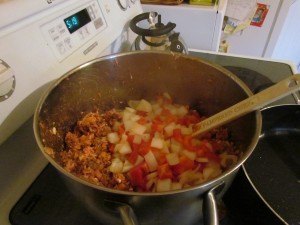 Next I add my crushed tomatoes, ifyou have some homemade tomato sauce feel free to use that. This is where I eyeball things I add about 2 cups sometimes more sometimes less of the tomatoes. You don't want it soupy but you want it to hold together. Add cubed cheddar and mix.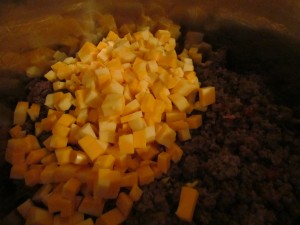 In the cottage cheese container I add about a tsp of oregano, heaping tablespoon of garlic powder, 2 tablespoon of chili powder salt and pepper to taste,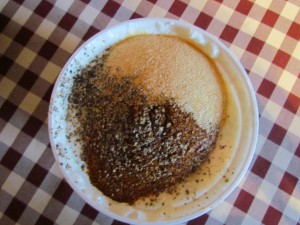 I find adding the spices to the cottage cheese helps it to mix evenly in to the larger rice and meat mixture. Here it is with the spices mixed in.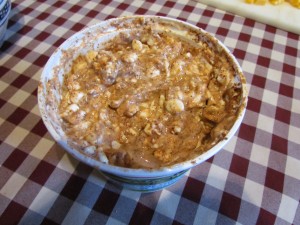 Now add in the cottage cheese into the larger pot.
All the while keeping the pot on a very low heat. If your ingredients have been sitting for a little while then you will want to turn the heat up a bit so that it is hot to serve, the cheddar cheese should be melted and well mixed in.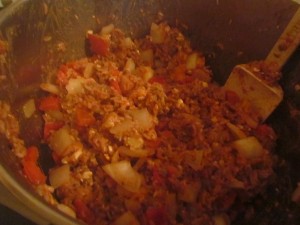 It may not look pretty but it is really yummy! We serve this with Tostitos scoop chips but any tortilla chip will do. Kids love this as there are no forks needed just scoop and eat.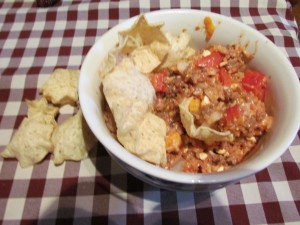 Now as I said I eyeball this recipe some times I add in some salsa, sometimes I add extra peppers and onions, I had a friend say she was going to add in some corn when she was going to make it. You could add in some beans to stretch it. What ever you like. If you like it spicy throw in some hot peppers be creative. Enjoy!
Pin It