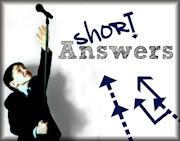 What are the benefits of going green?
Joel – green in the globe (points to globe)
Joshua – What?
Taking care of the environment.
Well I'm talking about the green thing.
Yes, that is what I mean by green, taking care of the environment.
It is good for the animals and the plants!!!!
Taliah – Umm benefits? That you are helping keep the world healthy.
Elijah – Meaning that you love plants
How do remote controls work?
Joel – Press, press, press!
Joshua – I don't know!
Taliah – Umm by batteries.
Elijah – Ahh, remote controls…they have this sort of electrical thing…
Where do they make Coca Cola?
Joel – Make chocolate and milk and sugar and fire and water in a bowl and makes yummy cola.
Joshua – At a factory.
Taliah – Umm do you mean chocolate?
No Coca Cola is Coke.
Oh Coke! Umm Mexico??
Elijah – Coca Cola? In a factory.
If you had to define your mom in one word, what would it be?
Joel – Has a head.
One word.
Head, eyes
Joshua – I like the lunches that you make Mom.
Can you pick just one word.
Friendly
Talaih – Kind
Elijah – Beautiful!
Ahh really?
Yep!
What about your dad?
Joel – My Dad live far far away.
Okay one word about your Daddy.
He loves chocolate.
Note: Joel has an imaginary friend named Dad (which drives us nuts Dad lives far far away has a huge farm with every animal you can imagine on it. He drives a truck and a chariot pulled by 10 white horses!! It is great when you are out and your 4 year old tells people his Dad lives far far away. I just ask him yeah and what colour is your Dad? Blue!!)
Joshua – Strong
Taliah – Kind
Elijah – Hard and soft, sometimes is tough on me and sometimes he is soft on me.
If you want to hear some more fun answers head on over to Abigail's site Rear Window.
Pin It