We are now in full swing of getting ready for Christmas. I want the children to be familiar with several Christmas Carols. I thought it would be fun if each week we would work on a different carol. My older two already know a few but I decided to start with, 'Away in a Manger'. I think all of the children with the exception of Hannah are already a little familiar with it.
We have started learning the words and tune so we can sing it but I decided to go a little further with it. We are going to look at the history of each carol we learn. Unfortunately little is known about 'Away in a Manger.' We discovered that it first showed up in a Lutheran Sunday School Book in the year 1885. It was originally thought that Martin Luther wrote it but apparently that has been dismissed as a rumor. I t has also been called the Cradle Hymn.

For the younger children I found some pictures of Jesus in the manger to colour in. We have taken the lyrics and discussed vocabulary, for example, manger, lowing, Thee and Thy. We have discussed word pictures, morning is nigh, fit us for heaven. Asked questions like; Who is the speaker? Does the poem have a setting? Is the theme stated directly or indirectly? We took time to find Biblical references to go with the lyrics. We talked about the song possibly being written by Martin Luther, that some people still think that and that some feel that holds no ground. We grabbed the globe and found Germany.
The children had a chance to act out their favorite part or draw their favorite part.
Finally, we made salt dough ornaments. Which is our first Homemade Christmas Project.If you would like to make some salt dough ornaments it is really easy.

You will need 2 cups of flour 1 cup of salt and 1 cup of water.

I halved this recipe and made 3 separate batches. To colour your dough add food colouring to the water before you add it to the flour and salt mixture. As I am mixing in the water I start with a fork to mix it and then start kneading it by hand.


You will want to knead it for about 5 minutes so it is nice and soft.
We made a ball and flattened it out than took a little ball and placed it on the flattened one.


Next we folded the sides over and that was the basic form of our baby Jesus. We added facial features and then using a garlic press we made our straw to place our baby on.
Using plain metal paperclips insert one into the top of the ornament.
If you look carefully at the pictures with the chidren you can see some of them gave their baby feet! Little Hannah didn't join in today she fell asleep.
Once all of your ornaments are made place in a preheated oven at 300 for about an hour. You can use cookie cutters and make shapes. You can take two worm like pieces in different colours and twist them together and make wreathes. The sky is the limit. We did baby Jesus because it went with our theme of, 'Away in a Manger.' You can paint these, use glitter glue, or even nail polish to decorate them. To hear what other Homeschool families are up to check out the link below.

And if you would like to read more about slowing down and having a simpler Christmas Check out the following link.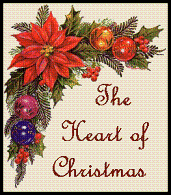 Pin It