My kids love doing this. You guessed it time for Short Answers. I was thinking maybe Elijah is to old for this but then today he gave the craziest answer for the 4th question!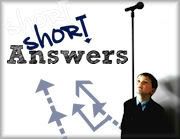 HOW ARE YOU PLANNING ON STAYING HEALTHY THIS WINTER?
Elijah – Umm, going to the doctors.
Taliah – Keep warm, have lots of hot chocolate…but not too much and brush your teeth!
Joshua – By eating good food!
Joel – Play under snow and I stick tongue out in winter catch snow.
HOW DO YOU SPELL C.D. ?
Elijah – CD
Taliah – C D (laughs)
Joshua C ee D ahh C D a C and then a D.
Joel – E D (which is how he says it)

IF YOU FOUND A WALLET FULL OF MONEY ON YOUR PROPERTY, WHAT WOULD YOU DO WITH IT?
Elijah – Ask around who it belongs to.
Taliah – See if it belongs to anyone but if I couldn't find them I'd keep it…maybe.
Joshua – Save up more money from it and put it with my other money.
Joel – On our grass?
Sure.
Throw in garbage.

WHY DO YOU SWEAT WHEN YOUR HOT?
Elijah – To keep us from drying out.
Taliah – Because you work up a lot of heat.
Joshua – I don't know, I don't know why I sweat when I am hot.
Joel – Outside.
Outside?
Outside is hot.

IF YOU WERE A SUPER HERO, WHAT WOULD YOUR NAME BE?
Elijah – Carna as in Carnator (Dinosaur)
Taliah – Ice girl.
Joshua – Ahh, Small Guide and I would be the size of a Lego guy!
Joel – UMM Super hero, Super hero, Super hero Batman. Have cap, have car.
Well folks you heard it here first.
Note. As I was typing this Joshua ran in here in a panic, "Mommy Mommy the puppy is leaking on the floor." At the risk of too much info. Leak is not a term we use for urinating we say, gotta use the bathroom or pee. So the fact that he thought puppy was leaking is rather humorous. Have fun, grab a kiddo or more than one and ask them some Short Answers! Click on the link at the top to join in!!
Pin It